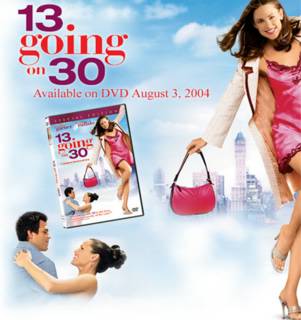 Watched this on DVD with my bro 2 nites ago...Great fun to watch, I'd say...It's kinda' unfair for me to judge cos' I'm such a great fan of Jennifer Garner...Anyway...
7.5/10
The storyline is pretty plain, really..A tad too good to be true..But great twist to the near end...
However...

9/10
For Jennifer...Heh..She's such a good actress..Her crying...her excitement...So way off from Alias....She looks good in all the clothes..even down to that PJs, That missing 1/10? She walks a tad too manly and she runs funny.
Let's leave it to the experts...Here's a peek from
Rotten Tomatoes.
"
It turns out Garner is a natural comedian with real presence. And, ultimately, her convincing performance is what makes 13 Going on 30 watchable."
--

Jeff Vice
,
DESERT NEWS, SALT LAKE CITY
That's my Jennifer...