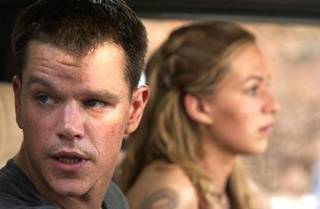 Jason Bourne & Marie(whose character lasted all of 10mins), before her untimely death. No wonder I never see her much in the trailers...
Watched Bourne Supremacy yesterday. Helluva' movie I'd say. Action at it's best. It was fun! Fun with a Capital "F". Based on the utmost favourite topic. Conspiracy. Whoo! Gimme more! Enthralling!
The story is more character-driven, amidst all the action. I almost couldn't recognise Joan Allen with that long hair
(too much of Face/Off, where she sports short, curly hair).
Julia Stiles appeared for less the 10mins, too. In fact, the only prominent female face is that of Joan Allen. Then there's Karl Urban(
of LOTR fame
) as Kirill, the Russian secret service agent/assasin. He is so hot & cool at the same time. Really mysterious yet...charming.
Hmm...
So much for irony. Just the way I like my guys.
Har har..Can't believe this..Outrageous!
Why is it that I always end up gushing after the baddie? The fact that I'm gushing..?
Eeuwwww!!!

9/10
This movie is superb. The characters, the plot, the action, the twist, the ending..In fact, everything lah. I dunno if it's too late to say this but those who haven't seen it, should go!
Let's see what they say at
Rotten Tomatoes
"With an intense tone, strong mystery and dedication to story over frivolous action, The Bourne Supremacy is one of the best movies of the year!"
--
Willie Waffle
,
WAFFLEMOVIES.COM
I agree with him totally. In fact, so do others. Both cinemas that I watched it in was full houses. And this movie is already into its second week.
Ermmm...In case you're wondering...Yep. I watched this movie TWICE yesterday. At different locations. And I still love it. Getting the DVD, actually. Heh...Believe me..It's THAT good!