In terms of laziness, the both of us sure didn't disappoint. We ordered in our breakfast that 1st morning.
Thankfully, breakfast was provided daily as part of our package. We just need to tip the staff, that's all.
There are 4 types of breakfast. The American set with eggs (scrambled/sunny-side up/omellete), toasts and meats (beef bacon, ham or chicken sausages).
The other set is the one with danish rolls and croissants.
Another is the one with fruit (banana/pineapple/mix) pancakes and cereal (rice crispies/cornflakes/frosted) + milk.
The last is the Archipelago set of either
Nasi Goreng
(fried rice),
Mie Goreng
(fried noodles) or
Bubor Ayam
(chicken porridge).
A fruit platter, a glass of juice (watermelon/pineapple/orange/mix) and coffee/tea come with each set.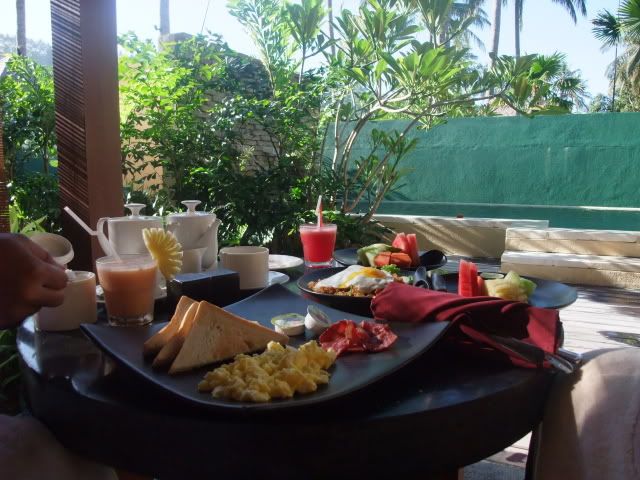 Breakfast by the pool.
With both of us in the pool when the food arrived, not surprisingly, we ate while dripping wet.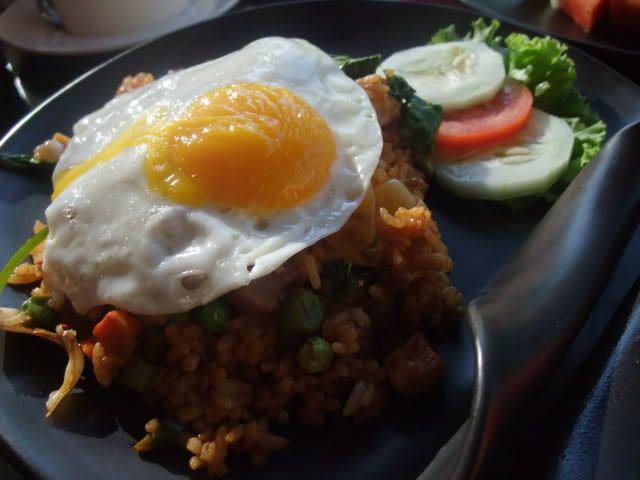 Hubby's Nasi Goreng.
Him and his penchant for 'local' food.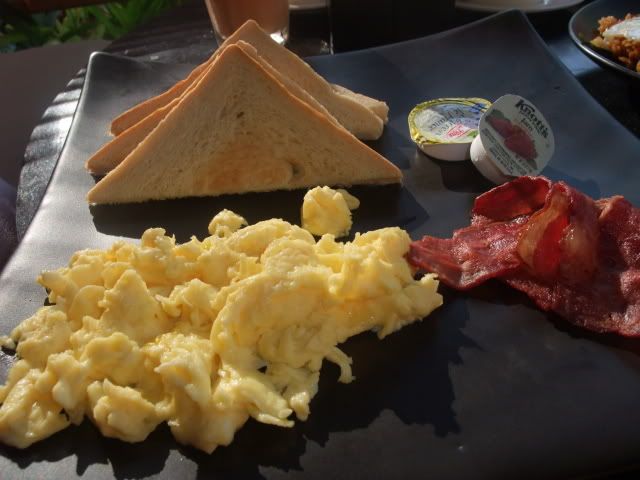 My American Breakfast.
With scrambled eggs and beef bacon.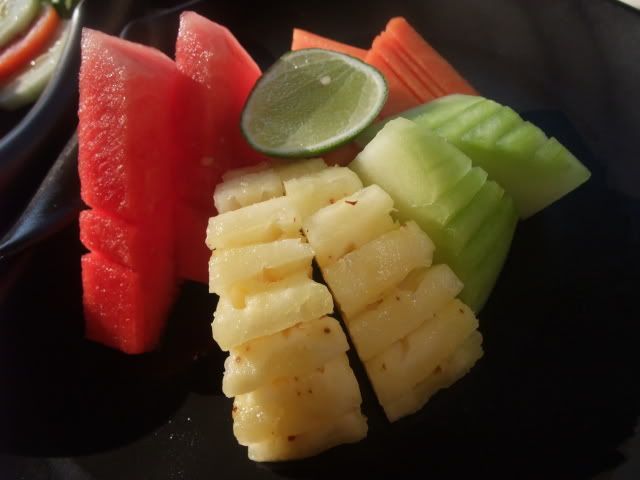 Fruit platter.
Fruits with lime juice squeezed on them were sooo addictive! Especially for the papaya and watermelon.
------------------------------------------------------------------------
We start to go on a city tour from 11am.
By lunchtime, I asked the driver to bring us to a good restaurant serving Lombok's specials. Especially the
Pelencing Kangkung
, which I was told about since I arrived.
He brought us to this famed restaurant popular with both the locals and tourists alike. Especially with the Jakarta folks.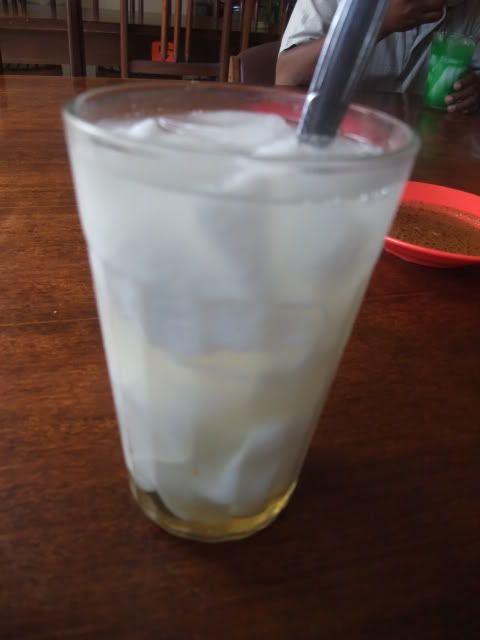 Fresh coconut juice with honey
.
On a hot day, the driver recommend the coconut juice. I tried the one with honey. There's the choice between a regular honey and the 'crystal' honey which is whitish in colour and has thicker consistency.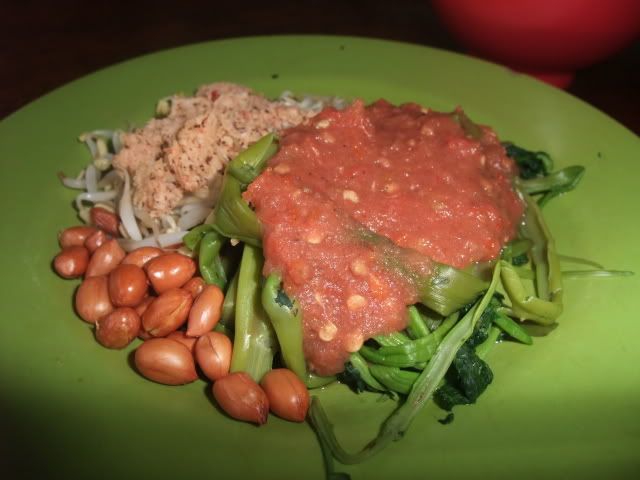 The famed 'Pelencing Kangkung'.
Cooked
kangkung
(water convolvulus), mixed with fried whole peanuts, beansprouts, spiced coconut and a sauce made with chili,
terasi
(prawn paste), tomato salt and lime.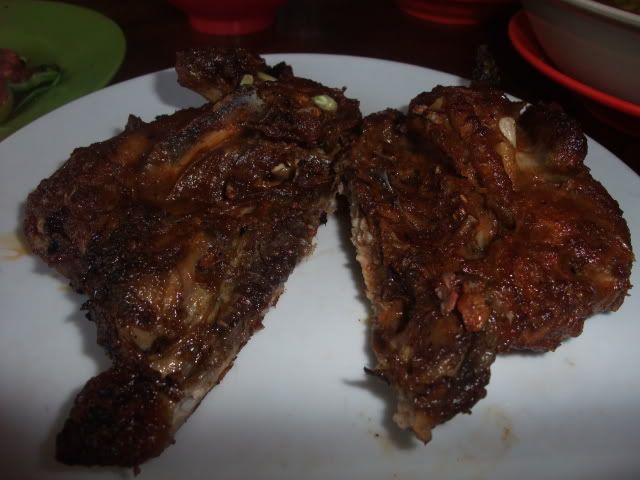 The famed 'Ayam Taliwang
'
Grilled/fried free-range young chicken with chili sauce is originally from Taliwang, Sumbawa (a forested region in Lombok), but it has become a main Lombok specialty.
They use only three-month-old free-range chickens, because the meat becomes tough if the chicken is older and "breaks" if it is younger.
After the fowl is cleaned and grilled until it is half-done, the meat is tenderized using a pestle and dipped into hot cooking oil for several seconds. It is immersed into the spicy sauce before it is grilled or fried until well done.

It's already spicy on its own. YUM!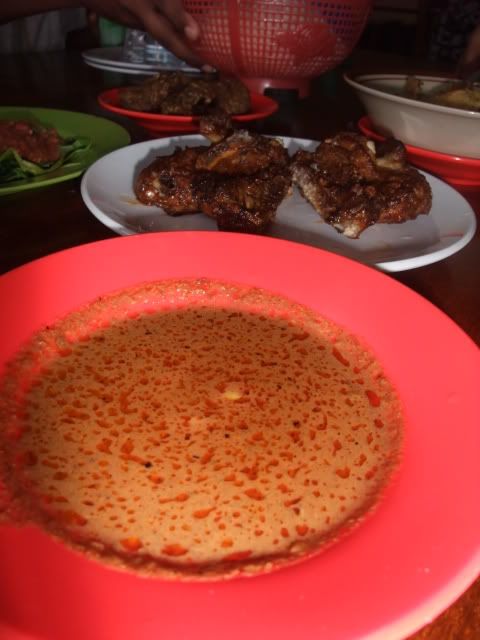 The accompanying sauce for the chicken.
It's peanut-based. Like a satay sauce, albeit more diluted yet spicy.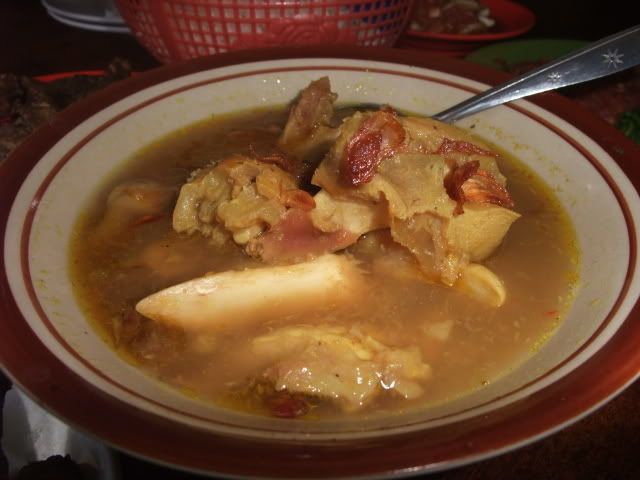 Gulai kikil
.
Goat's tendon soup.
This dish is like heaven-on-earth for me. I've only tried it once before in Singapore, at Warong Wisvry, a Minang eating house.
However, the tendons and bits of flesh were limited. But here, the amount of tendons and inner skin can drive me crazy. Despite the presence of the hubby and the driver, I end up having this whole bowl for myself.
Wahhh.... syiok!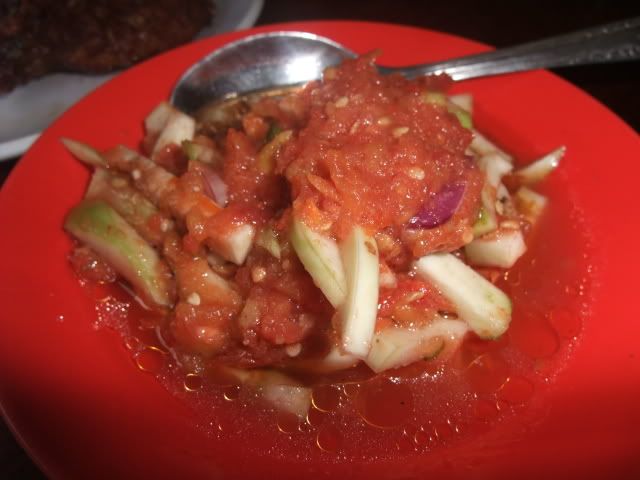 'Beberuk'
A side dish that our driver ordered for us to try out. Not surprisingly, only I dared to taste it.
It's raw, young brinjal that's diced and mixed with the same chili sauce used for the
Pelecing
. It's meant to be a salad of sorts. Nice!
We also ordered another dish, the Grilled Seabass with Honey. Which tasted really great, naturally. The fish was fresh, with them being 'fished' out of the miniature pond in the restaurant's grounds upon order.
Just too bad it arrived when my hands were already soiled since I ate with my hands. So no pics...
It's no surprise why this restaurant is so popular. It is truly commendable. The time when we were there, we were surrounded by many Jakarta folks.
Lesehan Taliwang Irama
Jl. Ade Irma Suryani in Karang Taliwang,
Cakranegara, Mataram