I'm totally excited about doing this. Been a long long time since I did a food entry!
We landed at Lombok pretty late, past 1800hrs. The travel between the airport and the resort + checking-in + gettting acquanted with the room + swimming made us into a really hungry pair of honeymooners.
Seeing that we just got here and the roads weren't really lit, we admonished thoughts of venturing out for dinner. We called the resort's Quali restaurant and asked for a menu.
Yes, we called for room service for dinner. Already on the road to pampering ourselves, eh?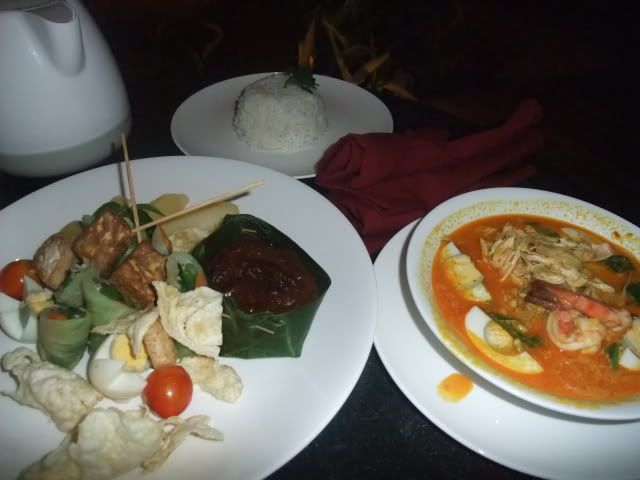 Dinner by room-service
Oh, the prices on the menu were such an 'eye-opener'! Well, what do I expect from a resort of villas?
The food better be good.... -_-
There were selections ranging from strictly local, strictly Asian to fusion and of course, the Western variations (which were pretty tempting, if not for the exorbitant pricing).
Gado-gado
Simple local dish which actually set me back Rp49, 000 (approx S$6).
But it was really delicious. In fact, I safely declare this to be one of the most delicious gado-gado ever! Hey, this comes from a lady of pure Javanese descent, ok?
Heh.
I admit that the sauce used was different from what we use here. I have an inkling that the sauce was what we call,
'Sambal Pecel'
(a type of spicy peanut sauce).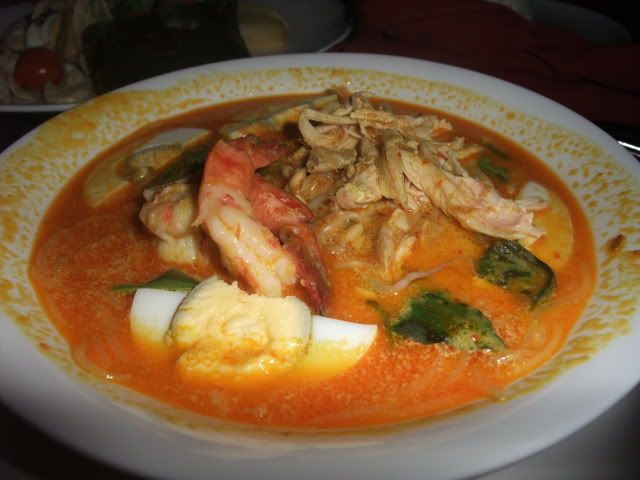 Seafood and Chicken in Laksa Gravy (w/ rice)
This set us back Rp71, 000 (approx. SGD9).
Hubby was pretty hungry and wanted a dish that come with rice. I was wondering initially, how a laksa dish can be served with rice but I guess it did work, after all.
The laksa was rich and nicely spiced. The contents included prawns, squids and shredded chicken. Plus quartered hard-boiled eggs, lots of basil and vermicelli.
Hubby was pretty contented with that dish, thankfully. I can't imagine if he's still hungry after that and I have to order more from there, god forbid. The money is better off spent elsewhere...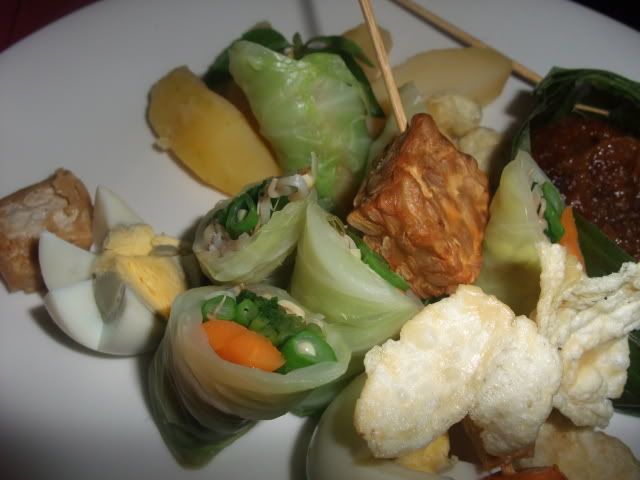 Unique vegetable parcels
A typical local food from a posh nosh hotel restaurant?
Nah.
Unlike the typical gado-gado where everything is cut and put together in a plate, the gravy poured over the contents and crackers heaped on top, here the gravy was sereved separately in a banana-leaf bowl. The
tomatoes (this one's new!)
, tahu
&
tempe
were skewered like satays and the vegetables like cabbage, carrots, bean sprouts, kangkong and long beans were served like parcels.
Only the potatoes, belinjo crackers and hard-boiled egg were served loosely.
----------------------------------------------
I'm glad that the foods, with its hefty price tag was nice after all. And helped to end our 1st night there on a sweet note.
I read on tripadvisor that a guest had compared the food here with elsewhere and the ones here still come out tops.
Hmm....