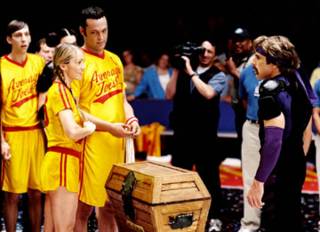 Watched
Dodgeball: A True Underdog Story
just now. Heee...
Ben Stiller was so...awsomely funny! Successfully irritating as the super egoistic, jerk-ass, chauvinistic and a fitness freak of a 'small' guy. And dun' forget the ugly moustach and awfully permed hair. He walked around in tights practically the whole time and he luurved purple. Can it get any worse..? Wait till' you see the part when he 'pumped' up his 'crotch' in order to attract that pretty lawyer
(who, by the way is his real-life wifey, Christine Taylor
)...
UUUgh!
And the bunch of misfits that make up 'The Average Joes'..? They garnered the most laughs from me..Check out their practice sessions. Hilariousss!!! Oh..oh..And their 'uniform' for their first game in the tournament..
Whoo...!
Vince Vaughn is pretty convincing as the super-slacker yet cheeky-in-his-own way yet motivational boss. Gosh, I'm still snickering now...
8.5/10
If I were to judge this as a comedy...yeah..It's helluva funny. Dun' forget to look out for the cameos from various guest stars... I personally think David Hasselhoff's appearance is the funniest.
4.5/10
If I were to judge it as a movie by itself. Too cheesy. Characters too corny..Plot too shallow. Dialogues a bit.....nevermind. Who cares, anyway..? What's important is that it's entertaining!
Check out reviews at

Rotten Tomatoes
"Ben Stiller plays a pumped-up fitness guru in a consistently funny sports spoof that unapologetically roots for the uber-nerds."
--
Stephen Holden, THE NEW YORK TIMES.
In case you're wondering why in the world do I choose to watch this crack-ass movie... I brought my 2 nieces along and I can't possibly watch 'Wicker Park', can't I??? Heeez...