Balik Kampung

29042005-02042005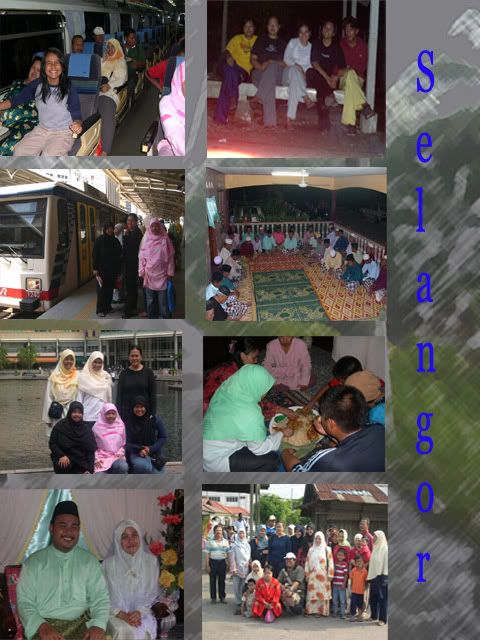 Nothing beats going back to the kampung with ur chummy cousins. It all read: Fun, fun, fun!
Add into it some soap drama and you have a sure-fire blast!
The only thing lacking: SLEEP
First & foremost, unless you get the carriage with the bunk beds, dun bother taking the 7hr-long train ride to KL. The seats are so not meant for sleeping. What about the fact that they played ROCK MUSIC? Rock music is fine but at 1 AM????! After that, oh goodness gracious me! They actually played Harry Potter & The Chamber of Secrets. At 2
freaking
AM. Oh, did I also tell ya that they didn't off the lights???
Rest at Aunt Mis's place. Shop around KL awhile. Had this sweet fella, a 2nd cousin of mine, who volunteered his services to bring us around. Him and his RM2100 Motorola fone. I do fancy him
(go further down to know why..)
but I sure love the fone, though. Tix sold out for the Skybridge tour at KLCC.
*pissed*
Took a bus to Ijok, Selangor where the kampung is. Bad timing. It's the time where EVERYONE in KL seem to rush back home. A supposed 1 1/2 hr bus trip morphed into some dreary 3 hrs. It was very, very dark when we reached there.
Did I manage to sleep well that nite???
Nayyyy...
I suffered at the hands of one of my cousin who slept like a wrestler in the ring and snored like a motorboat. Worst, she's VERY mobile in her sleep. I moved my sleeping location 3x with the hope of finding some peace but ended up being kicked in the head and having to sit up and watching others sleeping, praying hard they won't turn into a face-up position, when their snoring volume will escalate several notches.
Tot' we'll be witnessing the nikah
(solemnisation)
ceremony. Turns out it's held at the marriage registrar office. Not many can go in. So we walked around the kampung and got so bored we end up snapping pics of sleeping ppl and recording their snores. Amazing decibel count, that all I can say.
As the day inch closer to the evening, some drama unfolded and we saw a smitten guy, Mamat openly pursuing for the affection of my cousin Huda. Freaky, I tell you. I'm not going into details as to how the drama unfolded.
We experienced some culture clash during the kenduri
(communal prayer recital cum feast).
Over here in S'pore, both the male and female got involved and naturally we dressed up cos' everyone is present and it's only right that we dress well. Somehow there, only the male villagers were involved. The ladies of the house, after preparing the dishes, simply
lepak
and watch TV and talk amongst themselves. In other words, you can just wear your PJs and no one gives a damn. Problem was, we the S'poreans ACTUALLY dressed up and they were surprised. It eventually beacme a joke amongst them that we gals dressed up to impress some prospective mother-in-law with sons who are eligible bachelors. Ha ha.
Very funny.
We all had a good slow talk deep into the night where we eventually see Huda responding positively to Mamat's open affection.Keeping them company was a breeze. It's easy to stay awake when you are surrounded by sleepers rolling all over the floor, snoring like there's no tomorrow.
Sometime around 1AM, when we decided to leave the couple alone by themselves, my 2 cousins & I went on "
The Great Orb Mission",
where we go around clicking the cam into the darkness, hoping to discover some mysterious orbs lingering around.
Some entities from a parallel world, perhaps?
I remember leaving my cousins behind and made my way towards the kampung road, which is enshrouded in total darkness. I faced the straight road and gleefully snapped a pic. I looked into the screen-
nothing
. I looked up and saw a beautiful array of twinkling stars so I called my cousins over. One of them candidly took a pic of the stars
(which I think is a dumb idea cos' they're just too far away)
and we got what we're looking for.
Orbs.
Quite a number, actually.
Mamat
(the loverboy)
dared us to snap a pic of the darkness beside us and see what we can find. I detect a hint of something snide in his words. I remember him telling us that there's 'something' there. I simply stuck my tongue out at him, took my cam and walked away. I ain't gonna let anyone put me in deep s***. It's one thing to do stupid things in ignorance but to insist on doing something despite the hazard is simply looking for trouble.
Here are the pics I took. (
I dunno if the orbs can be seen. If you are really curious, I'll be more than happy to email the pics)
: Tried to snap the stars but got some orbs instead.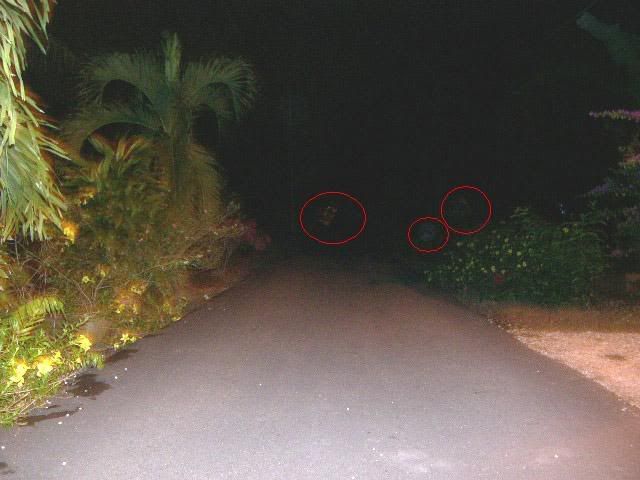 What I thought was NOTHING eventually showed a mysterious entity in the middle and 2 orbs with faces in the bushes (all circled). One of a fat man with a moustach and another of a skinny man with long hair & wearing a farmer's hat.
Anyway, that night
(or morning)
we slept at almost 5am and woke up at 630am. Before that, we walked around the house when everyone was asleep and laughed at how both the adults & kids slept. Spread-eagle, frog-style and even a lost 'dolphin' who slept face-down with the leg propped high against the wall, the feet angled like flippers.
That morning, we groggily packed our stuff cos' we need to leave early, seeing that we need to be at Puduraya, KL at noon. We were mostly happy but the villagers seem pretty sombre. No one like to see their guests go and they would much prefer us to stay there longer.
Oh, ya. I need to come clean about something. No trips with a bunch of gals is complete without some 'obsession' with someone of the opposite gender. Someone that most of us will take a similar liking to and created some playful rivalry amongst ourselves; telling one another that 'The Best Gal Wins'. It's really fun when all of us turned in his direction whenever he appeared, swooned whenever he spoke and gushed at how smart/charming he looked in
Baju Kurung.
We were so desperate to get a pic of him in baju kurung that we took a pic of him; asleep - in the Baju Kurung, no less. We dun care if he realized our 'affection' for him. All we know is we amused ourselves doing that. Naturally, that fella will be forgotten a couple of days after our return to S'pore. Crazy, huh?
Anyway, some 4 cars were needed to transport us to the bus stop where we'll take the bus to KL. We already planned to take the car driven by our Prince Charming but backed out in the last minute cos' after his mum and bro got in, there's simply no space for us.
Darn.
We snapped group pics at the bus stop and desperate as we were to snap his pics, I took a panoramic video, starting position at where he's standing and end at him. All my cousins squeal at my ingenuity. Heh. We were so crazy. Turned out, we needn't have bothered so. He is such a great sport that he naturally posed whenever we had our cam pointed in his direction. In the end, we had quite a no. of his pics.
Anyway some 'drama' unfolded, where Mr Loverboy succumbed to his petty self and got off the bus after some very innocent question. He left us speechless but all went well, when the car driven by our Prince Charming tailed our bus and when we waved at him, he gave a megawatt smile and flashed the 'peace' sign with his hands on the wheel. Oh, how we squealed!
Goodness, we ARE crazy...
More drama unfolded when Mr Loverboy, Prince Charming & mum actually sent us off at Pudu. Huda was smiling and blushing by then and we had a whale of a time getting close to Prince Charming. (Yes, we got really daring cos we're going back already, anyway). Their mum was such an emotional lady & we teased her by singing sad, goodbye-themed songs when boarding the bus. So bad, I know but she looked so cute, holding back her tears. When we thought that the bus was already setting off, Prince Charming actually got on the bus to take so last pics of us on his RM 2100 fone. I grabbed my cam and took a pic of him at the same time. Little that I know he will pose - again. Swoooon!
The bus journey was great. We were so dead-beat that everyone was fast asleep even before the bus left KL. We missed the expected jam too! What a breeze of a journey!
Phew! I had a great long weekend. Did you..?
Go >>HERE<< for the peeks