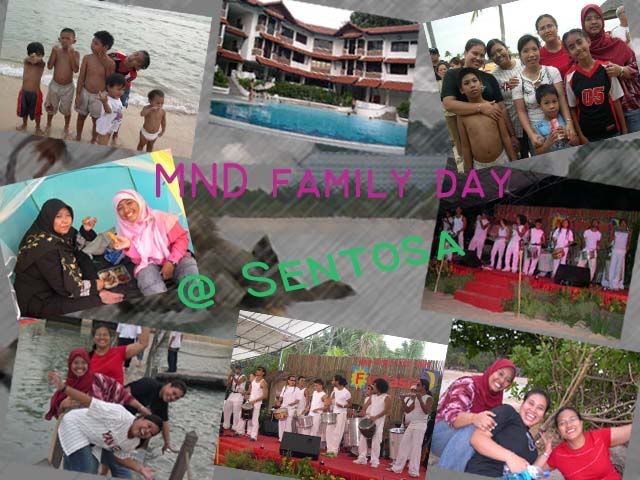 09042005
Very 'happening' occasion, I'd say. With a brood of 24 ppl (10 adults & 14 kids) , things can be pretty exciting....
With the exception of having to wait for more than an hour for some of my cousins, things went pretty well. Smooth journey, great weather
(not too sunny or hot)
and most importantly, there's camaraderie amongst all of us. Family day, what.
I remembered that during the agonizing 1 hr+ of waiting, the bunch of us ended up having a mini picnic at the Harbourfront bus interchange. The 2 loaves of choco bread & 2 containers of nuggets that my family brought
(meant for the ACTUAL picnic in Sentosa)
were kaput within minutes of offering them. The kids were almost no different from piranhas. 1 come 1 go. 1 come 1 go. Next thing I knew, food gone.
In case you don't know, MND stands for Ministry of National Development, meaning this family day involves families from various organisations like HDB, NParks etc. That means there are over 10,000 ppl on that Siloso Beach meaning, IT WAS VERY CROWDED!
My cousin queued for almost 1/2 hr at the toilet just to pee
(only to realize there are rows of empty portable toilets nearby).
Meanwhile, my cousin Sue and myself wore these matching Adidas slip-in shoes
(which we bought together)
only to realize that the Family Day is on the beach where the humble flip-flops would be much preferred. As expected, the shoes look like it's been thru' hell at the end of the day.
It was a bonus when it comes to entertainment. The highlights were Wicked Aura
(the popular percussions band)
and Wendi Koh
(a very talented, versatile songbird).
Best thing is that both have 2 sessions! In the late afternoon & at night.
Wendi started the occasion with some joyous-sounding numbers
(to suit the festive atmosphere)
and later in the evening performed some serious rockin' numbers like Gun & Roses, RHCP, Maroon 5, Evanescence etc. Her back-up band, The Uninvited were superb!!!!
Wicked Aura also started the afternoon with this great number
(that got the G.O.H, Mr Mah Bow Tan shaking his legs)
and the evening performance was more up-tempo that encouraged some boggie
ing
. I had so wanted to boggie down esp. since the Talentime winner sang, "Play That Funky Music." He's good, man. Problem lies with the fact that my parents were present. I believe my mum would have been cool about it. As for my dad....
Hmmm...
To add to the problem, my uncle was there and he has this 'strict-father' persona. Heck, even his daughter sat still.
Sheesh!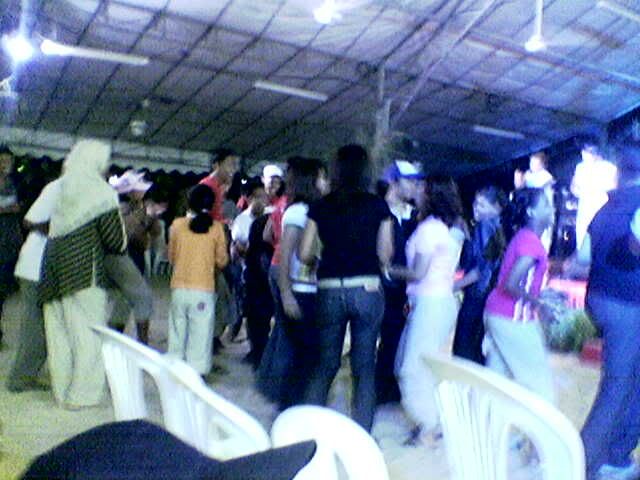 In the end, everyone from my brood remained in our seats while some of the others
(even the aunties/uncles)
boggie down at the front. Ada makcik joget zapin.The closest we got to boggie
ing
is shaking our shoulders & tapping our feet which, by all means are PATHETIC.
Boooriiiinnng....