HEy, no more Constantine in American Idol!
Darn.
Guess I won't be watching anymore. Not that I watch it regularly, anyway. The only times I watched is when Constantine performs. I'm really curious to see a rocker performing some mainstream music.
Yes, so what if I DO have a crush on him? He is rocker and I like that. He doesn't look good but his brooding persona is a drawing factor. And check out his lowered gaze. However, I never fail to be taken aback by the few times he performed like some hyped-up happy maniac which I guess, is showmanship.
Anyway, his band, Pray For The Soul Of Betty will release their their album and this time his music is just the way I like it. Some heavy rocking won't hurt, rite?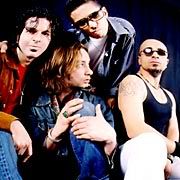 Constantine Maroulis & his bandmates

QUESTION: What's up with Paula, crying like that when Constantine's name was announced as the one going home? Some ppl may say that she liked his performance week after week and that he dun deserve to go but I personally think that she may have a crush on him.
It doesn't help that earlier in the day, I heard reports that Corey Clark
(from last season's Idol who got booted out for resisting arrest after assaulting his sis)
revealed in his book that Paula had paid him to keep mum about some affair they had...? Even FOX tv wanna realeased that part but got stopped by her lawyers or something like that.
Is she not as clean/innocent as we tot' her to be?
Hmmm... go figure.
Just dun' embarrass yourself the way you did yesterday, Paula.