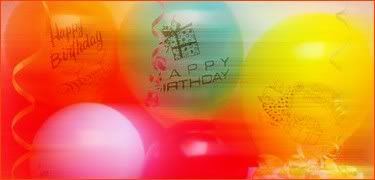 Happy Birthday, Shyba!!!!
I know you're going thru' a messy phase with all those lecturers-from-hell, exam topics unknown and a school located in the almost-netherworld and all other what-nots.
It's just another challenge, another obstacle. I know I wouldn't know much, not when I'm not in this mess myself but the best I can do is to cheer you from the sidelines and urge you on.
A year older is nothing when it proved to be of no significance. Let's just cherish each day as it comes. Remember, Everything Happens For A Reason.
Best of wishes in your future endeavours. May you and your family be blessed with good health, happiness & success. May you be guided into the right path, always.
Amin.