Had 4 tubes of blood taken from me today.
Ouch, you say?
If you think the prick of the needle is painful, try peeling the plaster from the crook of your elbow
(where they drew the blood).
Now, THAT's torture.
I know other peeps would prefer others to quickly peel the plaster for them in one fell swoop.
Heh.
Not me. I prefer peeling it little by little, looking closely at the tiny, tiny hair sticking to the elastic. I see my pores popping as the pain develop with each peel.
In case you're wondering, yes, I have a high tolerance for pain. I LIKE pain. You know like when your gums swell or when you cut your lips and you keep biting at the spot? THAT felt good.
Enuff of that.

--- --- ---
As you can see, I'm pretty unreliable when it comes to being meticulous or prompt in my updating. I may update regularly but they're often bout' things that happened in the days yonder.
Heh.
So here's what I did last weekend....
--- --- ---
23042005
Paid my cousin a visit. Apparently she had given birth a few days back.
Forgot to charge the cam so I had to rely on my handphone....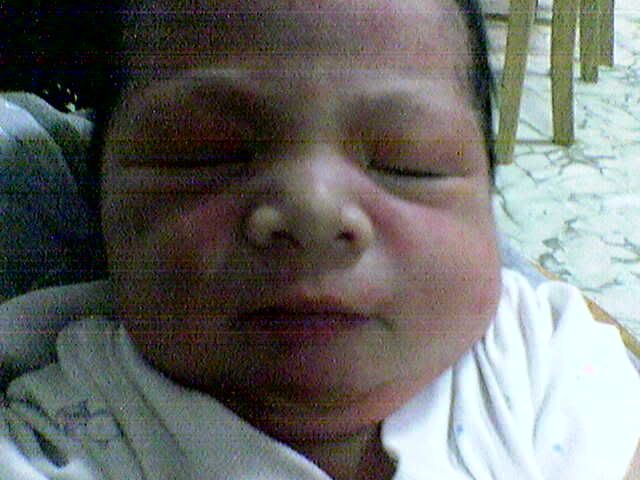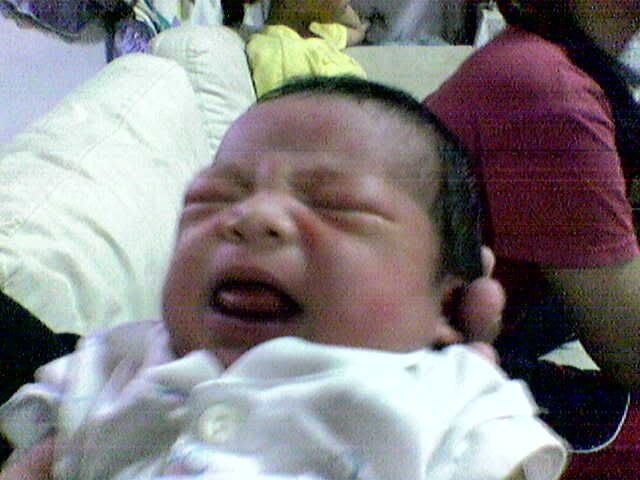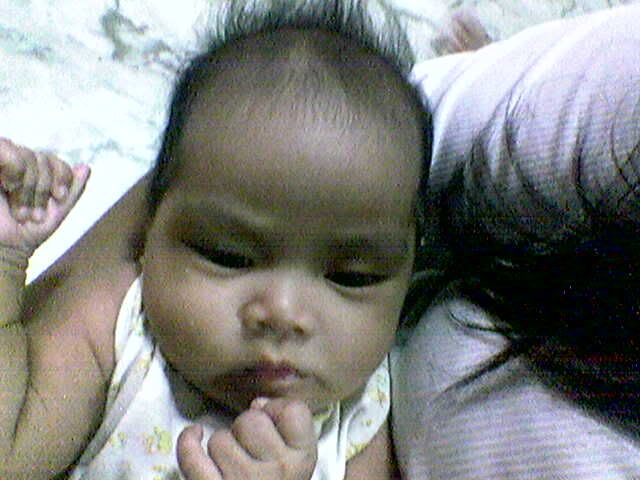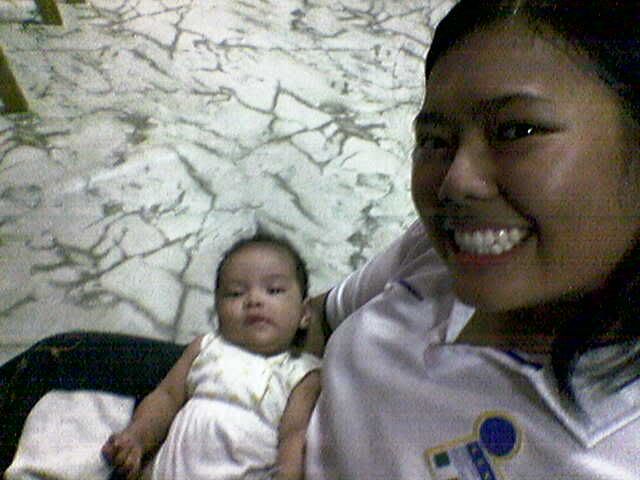 That's my new nephew, Muhammad Khairullah :: Crybaby :: His niece, Aisyah :: Aisyah on my lap
HOLD IT. If Aisyah is HIS niece.... Wouldn't that put me on the same level as her.... GRANDMOTHER???!
Erk!
Although Muhd. Khairullah came as a surprise to his parents and his 6 other siblings
(yes, he's no. 7),
he must have been a great blessing indeed. Aside from being the 7th child, he was also born on the same day as the noble Prophet Muhammad s.a.w, on 12 Rabiulawal.
TRIVIA: My cousin knew that she was pregnant ONLY moments before giving birth. Upon labour
(which she thought was some excruciating abdominal pain),
her hubby brought her to the A&E and she was ACTUALLY put under observation for a scan. No one mentioned childbirth.
Only when this cool nurse came by, took one look at her and exclaim,
"Aiyoh, ini mau beranak, wo!"
Her hubby was registering her when a nurse tapped his shoulder to say,
"You wife's given birth to a baby boy."
Imagine the look on his face.

24042005
After a attending a wedding that Sun, I went over to Sim Lim to purchase a larger memory MMC card for my cammie. After that, we were at loss as to where to go. My mum blurted, "Esplanade."
That got my dad all excited. He wanted to see the Satay Club
(currently in hibernation).
So off we go.
Did I also mention that it was like, 3pm and very, very hot?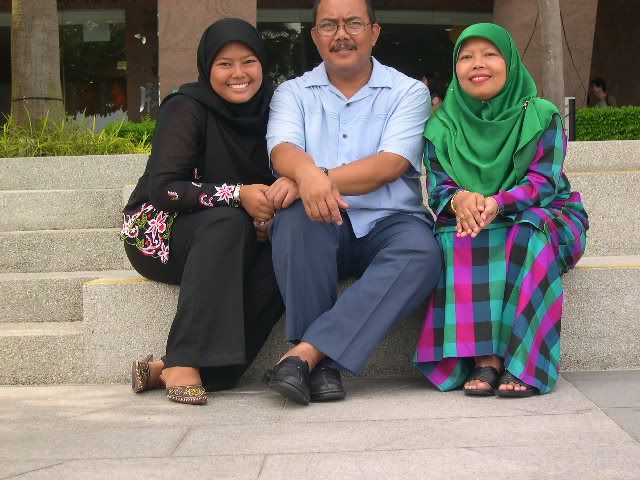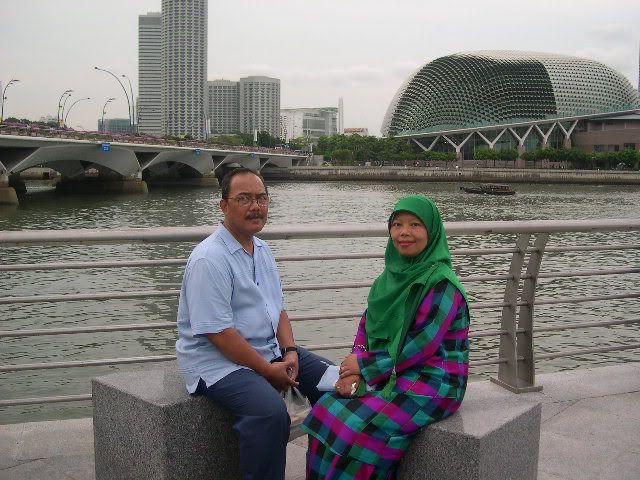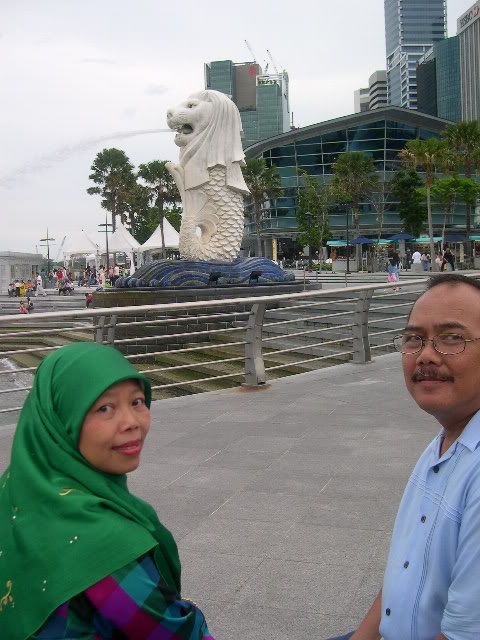 At Esplanade (taken with timer) :: At One Fullerton :: At Merlion deck :: Merlion
We sought for shelter at the semi-renovated Marina Sq. Mall. More precisely, at the new Food Loft. Their balcony dining area has a superb view of the waterfront. Next stop is the newly opened GIANT supermarket.
My mum kept mumbling about the Merlion so I spontaneously drove into One Fullerton. Satisfy my mum with the magnificent Merlion
(I began to feel like some tourist already)
and we hung around Clifford Pier as my parents gave me a brief history lesson as to what that area was like back in the 70s.
A note to those who wanted to park at One Fullerton. Parking charge is a whooping 5 freaking $$ per entry. As such, my cashcard had only $4++ and I actually reversed my car all the way back to the parking lot before scrambling to top up the value.
Dun say I didn't warn you.~ More peeks *

here

* ~