My bosses can be really farnee. My collegue, Sri & myself finally decided to finish off that can of chilli tuna for lunch yest. Sri came to work bringing bread & salad. It never come across to us that Christmas Eve will mean a 1/2 day. Niwae, our bosses neva' told us anithin.
He came in, "Do u girls know that u got 1/2 day today?"
Erk???
Guess the tuna-lunch thingy shall be kept for another day...
So the both of us went to get lunch. Where? On a land far away called Harbourfront
(we worked in Ubi).
Why there? The beef noodles of course. Sri had heard me gushed so much bout' it that she gonna taste it for herself. Glad to hear the positive comments from her
(hey, my tip is reliable, after all).
After which we walked ard the shopping centre. Nothing much except cutesy stuff. Got me pal her b'dae presents and went ga-ga in More Than Words, which had a large collection of Mashimaro stuff
(for me, Mickey & Minnie for her).
Oohhh! Being broke, I only managed a Mashimaro keychain.
Took a N.E. train ride to Clarke Quay and chill at CBTL @ Boat Quay. I love their Choc. Of A Thousand Leaves cake.
Such indulgence! Pure sin!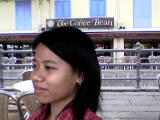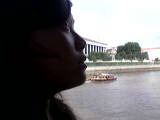 Sri :: Me, the procrastinator at work
Pergi toilet, lak leh sembarang. So we went to The Riverwalk. The toilet is so darn clean. Now I know where to take a leak when hanging around Boat Quay...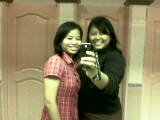 Us - In The Riverwalk toilet.
Met the guys @ Great World after that. We contemplate watching Ocean's 12. We wonder it it's gonna be worth our $8.50. We thought of watching something much better
(read:comedy).
Kung Fu Hustle? Meet The Fockers? Hey, isn't that a Ben Stiller show? A sequel to Meet The Parents?! Now that's something. Decision finalised.
Fockers, it is.
I figured out the name of the 'house of clocks' that I mentioned previously. It's called MOLECULE. Dun' even think of buying much if you dun have the moolah. Things there are on the brink of being a tad too exuberant. $105++ for a
foam
wine bottle-holder? A
veneer
table for some hundreds? Or is it thousands..? I forgot. Looking at the tags of a couple of supposedly 'harmless' products almost gave me palpitations. I still love their clocks, thou. Gonna get one of those. The stuff there - simply a feast for the eyes, a food for much creativity.
Dinner was at the humble KFC, after which we decided to get a quick cuppa @ Spinelli before the movie. Come to think of it - Movies on Bas, Dinner on Meng. Coffee's on me.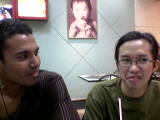 Bas & Meng
We got Theatre 1.
Wait a minute. Isn't theatre 1...?
I heard some couples whispering to each other,
"Isn't this the IMAX?"
Ditto. My sentiments exactly. We're watching Meet The Fockers on IMAX ??! I loooove GV Grand!
The movie is funny+funny+funny=heeee-larious!
It's so much like Dharma & Greg. Just that it works on the opposite genders, that's all. C'mon, what can you expect when Stiller's character is Gaylord Focker? How bout' this quote by Gaylord's fiancee
,"I wanna be Pamela Martha Focker!"
Now repeat that, faster this time.
Meet The Fockers


This is a great laugh-a-minute. A definite must watch.