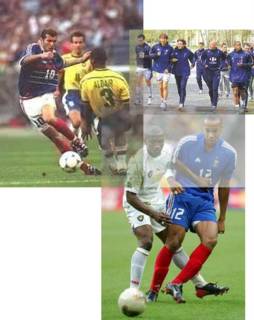 In 3 days, I sleep a total of..let see...3+4+3.5=10.5 hrs...I hr..I meant to sleep at least 7hrs
(yah rite!)
10.5/21hrs..Juz' pass...I need more sleep & yet I gotta watch W.S and the first eva' match for Euro'04...
(Darn! Their timing clashed!)
That will mean..I sleep ard 3+..Mean to wakie at 9(7th Heaven)...6+hrs...Ok, somewhere there...
Phew!
Talkin bout Euro 04', juz who is my bet on??? Definitely France, baby...My fave players are there, their talents put together are simply unbelievable! What else..Who do I wanna c in the finals?? France(definitely), Italy, ,Spain, Portugal...But..That's who I WANT. Those I believe will be top-4 are France, Holland, England & Germany or Italy...I dun like England...But I admit, there are great players there..Why do they haf to be in the same group as France???@#%$&*!!
Oh.. and dun' look over Ukraine..They are rising like mad, I tell ya'... Oh here I go..soccer freak..Had this veeeriii strong feeling that this lack of sleep may juz go on till next week...and the next..or next...
Sigh...&