Nadia's Nikah.
09052005
One of my close secondary school frens, Nadia
was taken
got hitched that Saturday afternoon. Not going to miss it for the world.
I remembered last time, while we're still in sec sch, the both of us always while our time away talking bout' our eventual wedding in years to come. Meeting the man of your life and knowing that he's THE ONE. Planning for the wedding. The colour theme, the location, the beautiful dresses....
Then there's the mini 'slumber party' at my home where the bunch of us feasted on instant noodle, snacks and ice-cream while watching
'Dil Tu Pagal Hai'.
After which we had a 'make-over' session where Nadia and Rufeah were dolled-up and pretended to pose as bashful brides. I still had the fotos but I won't publish them.
Very embarassing, ok?
And now, she's REALLY married. All those quiet discussions... It's now for real. Will it cross her mind then, that some 10 years down the road, her BIG day will come? That she'll be the first amongst us to wed?
Sigh....
Growing up. I can never get used to THAT.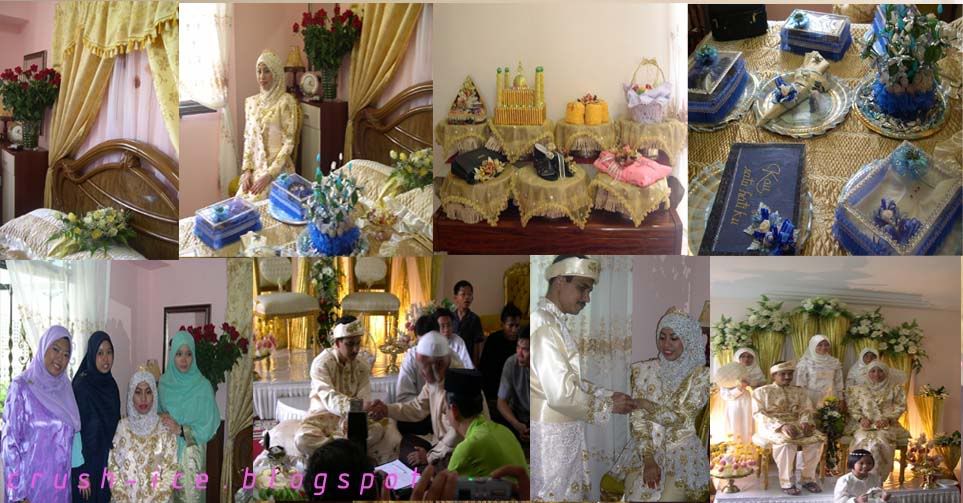 She look sooo beautiful. That's the first time I saw her with full make-up
(not that she's not beautiful naturally).
Watching the Akad Nikah ceremony, it struck a chord deep within me that my fren is someone's wife, now. Some mixed feelings followed. It's like I've not spent as much time with her as I used to. I missed those days.
Anyway, Nadia and Imtiaz, my heartfelt congratulations to the both of you. May you evolve in wedded bliss forever. May you overcome any obstacles that come you way and may you be blessed with all the happiness that a couple deserve. May the both of you forever be blessed by the grace of ALLAH s.w.t. Insya-Allah.Amin.
PS: Thanks for giving me the opportunity to witness an Akad Nikah done in English.
Refreshing!