Yet another meet-up
30062005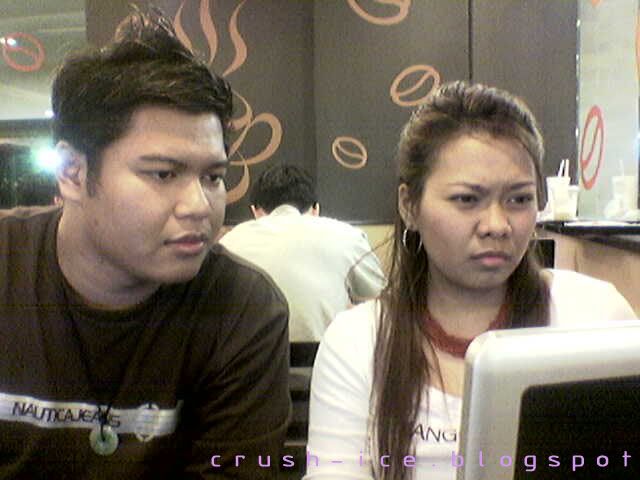 Yan & Hajar and one of their workbooks
They gonna meet up and exchange datas on their workbooks and I tag along
(do I sound like a lampost, here?).
Ayy,
they called me to come along, okay??
Went to MacCafe East Coast. Initially tot' of just getting in Yan's car but after balancing out the level of convenience and mere logic, I settled on bringing my car along. Need to send my mum later, you see...
They are STILL at the same place when I came back like almost an hour later, deep in conversation. I had expected them to get some fresh air by the beach or smth.
Cheh!
We did juz that, later. Maybe there's something bout' us meeting up and beaches. I'm not surprised if we hit Pasir Ris, Sembawang, Sentosa, West Coast or Labrador Park, next.
It was almost 0030hrs. Tot' it's time to head home. Somehow the night seemed young. We head to MUSTAFA for some late nite shopping. Yan need to purchase some black hair spray and I think I need a new slipper. The sole of the 'un I'm wearing came off. Tying a rubber band DO work wonders.
In the end, we went home without purchasing anything. And Yan, with that blonde highlights on his hair, will just have to stay in his office the day after cos' the black hairspray was out-of-stock
(uniform group, mah!)