3rd Time Lucky...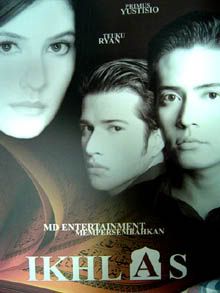 I remember watching this show on the Indonesian Channel-SCTV, 2 years back.
Yes, all you who watch this show on Suria, this 'sinetron' was first shown 2 years back. Kinda' long ago, huh?

Everyday I rushed home after work, to catch this series. Thank goodness it was the fasting month then, so I was let off early by my boss.

I actually recorded the theme song on my handphone to keep me occupied, should I begin to feel bored in the office. The song was played in loop in my head daily.

When I found out that I won't be able to watch the last episode due to that it's already Hari Raya & my family will hardly be at home, I ....
NO, I did NOT cry. I FREAKED out. I create a ruckus. I fret. Mumble mumble. Babble babble. I actually watched this show religiously everyday (yes, it's even shown on weekends) only to realize that I won't be able to watch the last episode?!!! What the...?!

Last year they showed it again but it's on weekdays, in the afternoon. I contemplate about taking leave just to watch it. Yes, despite the fact it's been a year, I'm still bent on catching that last 'un. My mum secretly watched the ending without telling me, for fear I will waste my leave (Now, I still have 1 week leave in excess).

When I found out Suria is showing it every Thu, I fret. I watched that show EVERYDAY for a whole month and Suria is only showing it weekly? How long will it take? Little that I know, Suria showed 1 1/2 hrs of the show weekly. It wasn't long before the ending comes. Jeng jeng jeng...

Tomorrow is a holiday and I have the chance to meet up with pals and catch a movie or two but I choose to stay at home, my butt fixed in front of the tv and wait. Then it dawn upon me that I've gotta send mum to work, meaning I will miss 1/4 of the show. Shucks!

Then, you know what happened?
My mum offered to go to work by herself, meaning she will have to walk. I was taken aback, so I said, wait till the ads, I will then send her. She said it's allright. She's watched the ending so I should watch it too. I felt really really bad for favouring a tv programme over my her but my mum, having borne me & brought me up, knows me inside out. She knows how desperately I need to watch this 'un.
Hey, I waited 2 darn years for this moment!

I muttered a guilty "Thank You" when kissing her hand. Gosh, I SO LOVE MY MUM!!!! *muacks!*
Gonna treat her someday. To a spa, perhaps? Hmmm, maybe a shopping spree. Anything. Just to show how much that little sacrifice of hers means a lot to me...
2 years.. I'm finally free.