UEFA Champions League


240205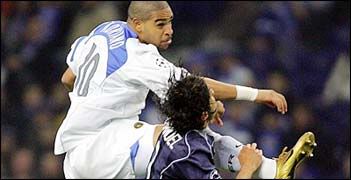 Aye, aye.
It's another night of lacking precious sleep.
*Yawn!*---Barcelona 2 - Chelsea 1
Love this match to bits. Star-studded and full of drama. First and foremost, let me just say that Samuel Eto'o is simply suuuperb! He could have put in 2 into the net the first few minutes. Not to mention that finishing touch which eventually brought the winning goal.
Another person worth mentioning is ...
surprise surprise -
Juliano Belletti. Revered by the visiting
(Chelsea)
supporters in the 1st half - thanks to his own goal, he proved to be a bumbling villain just 10mins into the 2nd half. His clumsy attempt to pass a cross to his keeper
(which can easily led to another OG)
prompt Chelsea's Didier Drogba to rush in and come crashing into the keeper, both of them after the loose ball. Have gotten himself a foul previously in the match, this second yellow card sent him off the field. Facing a 10-man squad now, the Barca side picked up the pace and the effect was...
WoW!
Last but not least is the new super-sub, the Argentinian Maximiliano Lopez. Barca's newest signing brought on the equaliser at the 67th min. And the Eto'o goal in less than 10mins later was assisted by, who else but Mr Super-Sub himself.
---
AC Milan 1 - Man United 0
What was that ol' man thinking down at that snowy field? I wonder if things could have been different if Ruud Van Nistelrooy was brought in earlier, or even Saha. Sylvester could help out a lot better in defense alongside Rio Ferdinand.
I like the part where youngster Cristiano Ronaldo brought the ball all the way from his own half. Reminds me of Road-runner with a ball. Very very fast. Too bad Fortune kinda' bungle up his goal attempt.
Hernan Crespo deserve to score that goal. Seems like he's trying to prove his worth as the injured Andriy Shevchenko's replacement. After 2 failed attempts, one after another, he went for Clarence Seedorf's shot that went loose from Keeper Roy Carrol's hands. At such a close range, It's no wonder that's a goal. Too bad for Man U who had lost their momentum earlier on. Not surprisingly Milan had the chance at more goal attempts.
By the way, Saha's could-have-been-a-goal by first touch was pretty impressive. Like the wrestling term, "Power Up!" And kudos to Gabriel Heinze who is practically here, there & everywhere.
---
Lyon 3 - Bremen 0
Inter Milan 1 - Porto 1
Err...
I dun' follw up these 2 matches. Slept after the live telecast of the other 2 matches. Too exhausted, I guess. Tried to stay up for the match reviews but my eyes won't stay open.
Sigh...