Anugerah Planet Musik
180205
My 3rd time to to the awards show. Quite a surprise, eh?
...For someone whose idea of listening to Ria 89.7fm is the 1/2hr during which I drive my mum to work.
...Whose idea of regional music is the occasional stumbling into Mtv Ampuh every Sun on Suria channel.
...Whose recognition of Indonesian artistes are only from the gossip shows I watch on the various Indonesian channels. Needless to say, I know more about their personal lives than the talents they posses.
Heh.
It's nice to see them in person. Knowing that they really exist. Goodness knows if the gossips bout' them are true but it's nice to finally see them as the talented people they really are. All the while, I was like,
"Oh, so this so and so is actually a singer. Hmm..."
My idea of the show this year? I dunno, lah. I think last year is way better. Location-wise, the guest-list, the rapport among the hosts. I think the problem lies with the "repeat-mode syndrome". When success of previous years prompt organisers to imply the same methods. Hello, we radical people tire of things easily, you know.
Suntec is not a good place to start with. It's incovenient to go all the way up to the hall. And the crowd from this show plus the common crowd from the shopping mall make the whole scenario very..erm..messy. Besides, the show seems pretty kelam-kabut because I had this strong feeling some of the artistes ran off to do some shopping in between their performances/appearances.
So how? Serik tak, bikin APM kat Suntec City?
Here's my idea of the event highlights...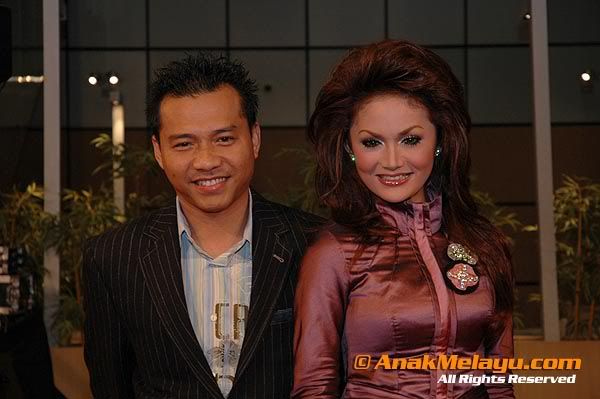 Pak Haji Anang & isteri, Bu Hajah Kris. Apa? Tak macam? No comment.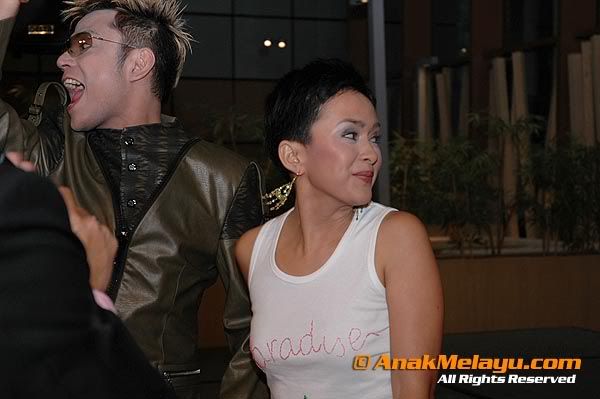 Aznil & Sarah. 2 of the very the kecohrable hosts.


Peter Pan. Cute name? Some gals will insist that the front-man, Ariel is cuter. C'mon lah. That guy just got married. His wifey giving birth soon. Eat your hearts out, ladies.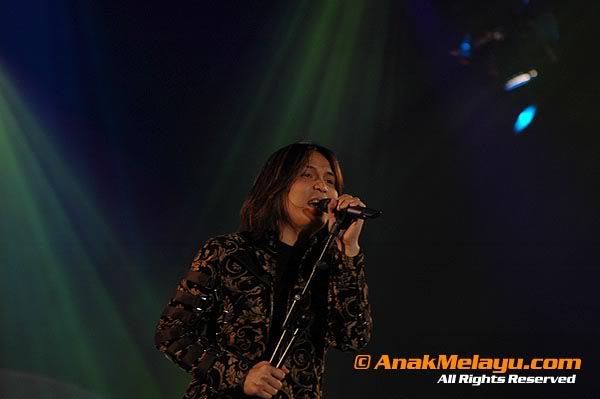 Once from Dewa.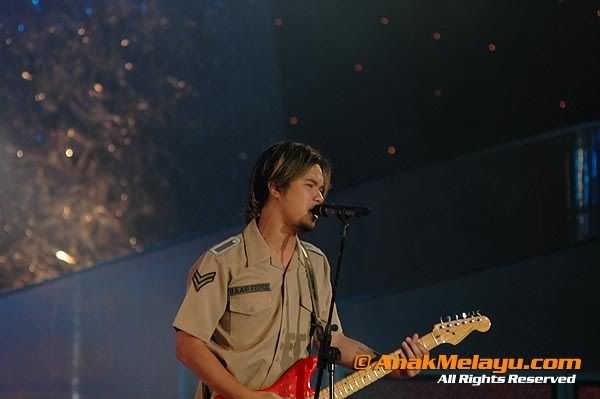 Ahmad Dhani, also from Dewa. Their performance roxxxxx!!!! Hai... minah rock tak abis-abis.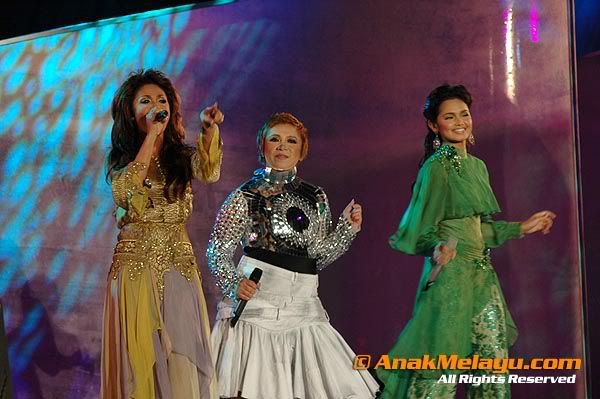 Kris, Melly & Siti. Their performance is very the Power! Melly's duet with Kris, when performing the song 'Cinta' is suuuuperb!
As you can see, the pics are courtesy of AnakMelayu.com, so go there to see more pics.