Aiyoh, new year, new year and it's not yet February.Okay, the only significant New Year to me is CNY. Cos' that's when I get 1-week straight of leave, on the house/office. It was meant to go traveling
(my bosses are avid travelers and are trying to brush some of that sprit onto us).
Not that I'm much affected by the foiled plans to go to Phuket but simply too lazy to save up. I mean -
During my 3 days of leave, I went out shopping and boy! Does it feel good! No wonder some called shopping, "theraphy"
(with the exception of the wallet/pocket/bank).
Bought new sandals, tops, beauty products for a certain someone's b'dae, another b'dae present, health supplements, water bottle, mary-jane pumps, and even cool pastries!
Gonna use the ERS
$$
ka-ching to open a new bank a/c. Now that's a step closer to some serious saving
(although I personally think most of it is going into traveling expenses, anyway).
In case you're wondering, nope. Saving up is not my new year resolution. Not that I'm making any. New year has carried no significance for me since the day I started working.
Unlike those school days, when we have long breaks before the start of a new term/semester. You either love it or loathe it. Working life has been pretty monotonous. In fact, the night/morning of new year was spent at my cousin's, watching tv and kinda' stumbled into Taufik's
(who?!)
new vid.
Yar...yar.
Scream all you want.
Girls.
If you think waching the news this past week has not been sad enough, then go watch this Japanese movie:
Nobody Knows.
The leading actor, a 14-yr old boy, won the Best Actor Award in the Cannes Film Festival. The story is poignant, disturbing and downright sad. You think it never happened, but it did. Despite the characters being fictitious, the movie is based on a true story, back in 1988.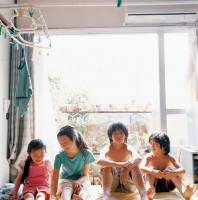 Nobody Knows : Cannes Best Actor, second from right.
Read:
Site 1
Extracted from site:
"... AKIRA: You're so selfish, mother.
THE MOTHER: How can you say that? You want to know who's really selfish? Your father's the one who's selfish, up and disappearing like that... "
Read:
Site 2
Extracted from site:
"... Children can not choose their parents... This was what came into my mind after I saw this movie..."
The mother is downright selfish, selfish, selfish!!! Eeeei! Geramnya!
Ya Allah, ellakkan diriku daripada jadi begini sekiranya dikurniakan cahaya mata nanti...
Amin.