Fri-Sat
Weekend kinda' start early, with my collegue & myself doing overtime on Fri nite. Yeah, when others were partying the last of that weekday away, we were working our a** off, rushing to meet the
already-hours-ago-overdued
deadline.
Shucks!
But my dear bro was kind enuff' to fetch us. Stomachs rumbling, I asked him to drive us to someplace for supper. Little tat' I noe we'll be interrupting his plans with his current girlfren.
Heh!
Apparently, she had cooked for him & he gonna get the food-spaghetti bolognaise, from her. FYI, my bro detests spaghetti. Since she already cooked for him...
Haizz, sayang nyer pasal....
Niwae the gf, Joyce, joined us for supper @ Changi. I told my collegue we're gonna have fillet-o-fish and she really tot' it's MacD. It's just the fish & chips there.
Sedappp!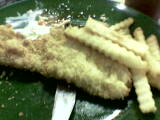 1/2way thru' the supper..... Yummy!
It's kinda' weird you know. There were the 4 of us at that table and yet it seemed like there's this invisible line dividing us. My bro & his gf in their own world; my collegue & myself in ours. My bro secretly stole 'grimacing' glances at me while eating the spaghetti.
Hee....
Gf's cooking or not, he still dun' like spaghetti so he practically stuffed the food into his mouth. Pitying him, I offered to finish up the last bits of mushroom and vege.
Aww....
Nasib baik sedap...!
Bro & Joyce
Besides eating @ Changi, what else...?
Hee..
Look out for the TS a.k.a
Ladies
there. Fav' pastime
(gonna add tat to my 'Hobbies' list...)
We spotted Chris at the other CP, with another of her
partner-in-crime.
Had a short chat with her. Chris with her white tube-top and skirt... Still as 'lawa' as ever.
Then it's home sweet home...
My family has yet to be able to wake up early to have a breakfast of nasi lemak @ Changi on Sunday, before sending my bro to work. We've been pushing the date with everytime we woke up only in time for SPS (slept again aft. solat Subuh).
Hope to be able to make it this weekend....