kl-shah alam weekend part 2
Ok, I think I've griped enough in my previous post.
Geez!
Tell me, what's a
rombongan
trip without heading to Jalan Masjid India? No worries, I'm not going to gripe (again) here. In fact, I wanna say that I'm
craaaazy
about the Saturday Bazaar. I almost hyperventilate the first time I went there. And I
soooo
looked forward to heading there last weekend. Let's not call it the Saturday Bazaar. I shall called it the 'Street Food Haven'.
Just too bad that my belly still felt full then. Besides, we were given less that 2 hours to roam that place. Frankly, I dunno why I have to listen to the tour guide anyway. My cousin Sue & I ended up rushing from one end of Mjd. India to the other, running errands. Sue was in so much hurry until I put my feet down and insist we start from the beginning and walk till the tail-end of the SFH.
Why I call it the Street Food Haven is because of the numerous varieties of street food sold there; from fritters on skewers, mixed rice, kebabs, burgers, fried noodles,
kuehs
, my all-time favourite
lok-lok
and the ever popular
laksa
penang. Definitely not for the gastronomically-unadventurous.
Heck
, I even saw some stalls selling chocolate cakes! Which they glazed with awfully tempting, dripping chocolate fudge on.the.spot. And chocolate cakes taste best at room temperature, don't they?
There are many, many more but I just can't recall. Too bad I didn't take any pics. Too busy rushing back to the spot where the bus is fetching us. I am sooo going back there again. And take.my.own.sweet.time. On an empty stomach. And buy enough food to feed the masses.
Hmph!
I practically have to drag Sue out of the bed that evening just so that we can head for Suria KLCC for the 'must-have' in KL. Getting around in their LRTs are easy. We almost blended in the crowd. Well, until we kept looking at their signboards, that is.
Heh.
Anyway, my 'must-have' in KL.
Boy, I miss these stuff. Why dun SG have this anymore, huh?
And while we're there, might as well head to their Cold Storage and grab the offer of '10-for-RM6.99' sushi. Yeah, they do that after 8pm, I think. Though not THAT fresh, it's still edible what.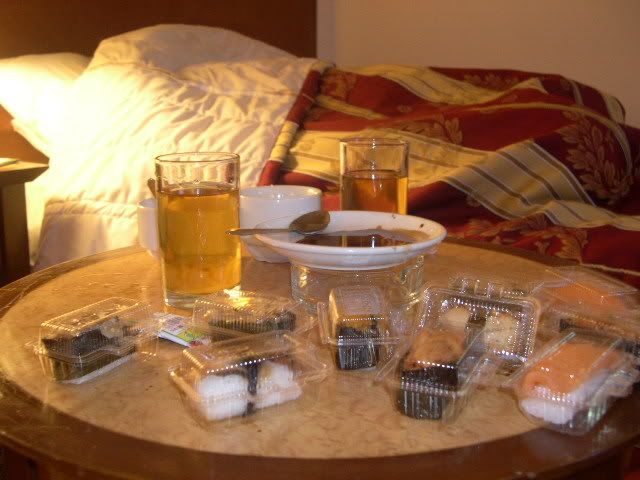 Had 6 sushis each, for supper. Topped with loads of wasabi.
Roamed awhile in the park. Despite the haze, there're still loads of ppl hanging out in the outdoors. Guess KL-ians fave past-time must have been melepak (hanging out). The former architecture student in me can't make me leave this place without a shot of this building. Old habits die hard, y'know?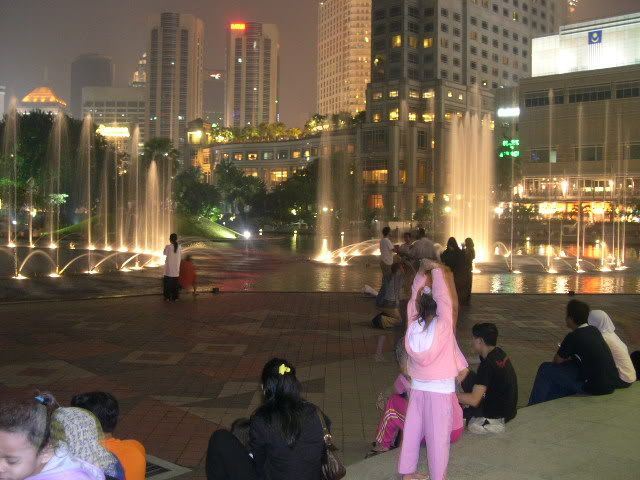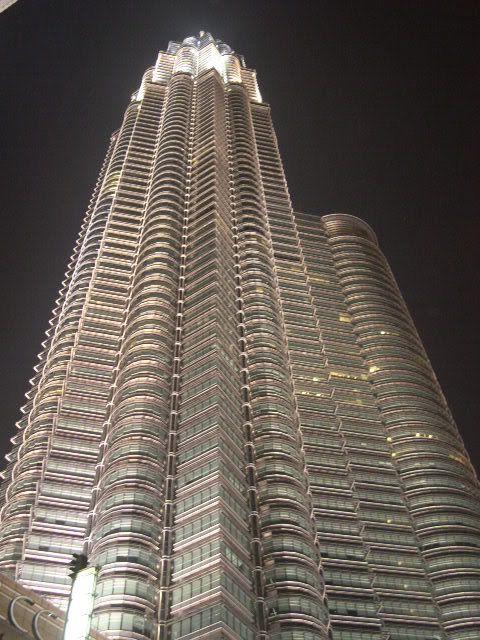 --------------------------------------------------------------------------------------------------------
The next day, we went to the Muzium Sultan Alam Shah @ Shah Alam (duh!) first thing in the morning, before heading back to Singapore. That's where the much talked-about displays of mystic artefacts and even mystical 'beings' are. I was so excited about the idea of that till' I willingly followed a rombongan.
But the excitement ends there. The whole display was an utter DISAPPOINTMENT. Really!
There's been a shadow of doubt hanging over this whole hoo-haa of having 'ghosts' on display. And I want to see for myself. True, I dun' doubt the authenticity of the little things on display, like the Jenglot and Toyol etc. But the highlight of the whole event, the Pochong was so lame. REALLY LAME.
For those curious ones- pics of the displays H.E.R.E .
Sue and I walked into the museum together and we followed the one-way arrows. We're the first few to enter the museum (came at around 9+ am). It's a nice feeling when there ain't many people and you're left to 'explore' on your own. And then I saw a group gathering in front and walking back (hey I tot' it's one-way?). We followed suit. Turns out, we missed the 'highlight' of this event, The Pochong. Those unknowing ones, A Pochong is a 'ghost' that is shrouded in white cloth (not unlike those that one is buried in). Its only method of movement is just by hopping around cos' the legs are bounded (duh!).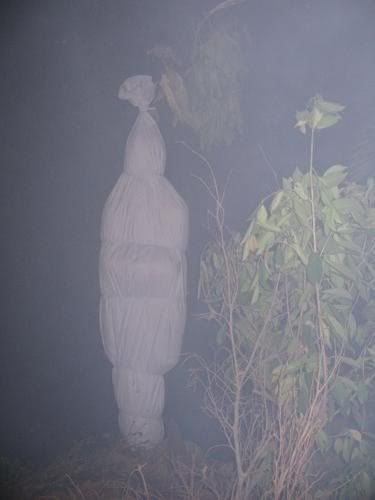 Just a display.

I read reports saying that those 'lucky ones' will be able to see the Pochong hopping around within its glass enclosure (yes, you're protected). I dunno what the term 'lucky ones' mean. Are they saying that only those blessed with '3rd vision' can see? Or that the Pochong only apperears before a 'selected few'? This is interesting. Or so I thought.
Having followed an excited group, I ended up standing at the back, straining to see the Pochong through the glass panel. The guys were hoarding the front area and the other girls huddled at the back. The place was dark- as in, super-dim lighting OUTSIDE the area. And the museum attendants refused to shine any light brighter than the one from one of their teeny-tiny torch. My cousin later told me she heard one attendant asking the other, whether to "wake that thing up". Man, if I had been the one hearing that, I would personally ask them to, cos' I come all the way to Shah Alam for this, ok?
I struggled to see anything in that horribly bad lighting but I managed to make out 'the head' somewhat. Turns out that thing is lying down (should have looked down earlier). Someone said that the thing 'kept diasppearing and reappearing'. Bullcrap! That thing had remained there all the while.
When most of the others left, leaving only me and a few other guys. My cousin remained at the back. I went in front, squat down and strained to see. Still only the head. Not convinced, I turned to the attendant beside me and told him I can't see much. Must have pitied me cos he took his torch (slightly bigger that his friend's) and shone into the enclosure. Saw it. Just a body, shrouded in white cloth, lying there. That's it. Less that 3 secs later, he off his torch again.
I was like, "That's all?" Now that I know where it's lying, I tried to make out its form in the darkness. Hmm..... I think see much more during a funeral. When I sit in front of the body to recite some prayers.
Thank goodness the display of the other mystical artefacts managed to appease my curiousity somewhat. Having seen them on tv, it's satisfying to be able to see them for real, upclose (cos' I bend so close to the display boxes, heh). And thank goodness the entrance fee was ONLY RM5. Sheesh!