sum it up
Just now, my office server went kaput.
Takde angin, takde ribut (not 'reboot').
Still got 2hrs till the end of the day. My collegue gotta leave early and my boss can't do anything. Told me to use the back-up data from his computer. Less than 10mins later, he switched off his pc and went back home. How to work like that? He's a funny man, my boss.
Very funny.------------------------------------------------------------------------------------------------
Almost wanted to kick myself when I let missed an almost empty bus. To appease the heart, I told myself that
"Things Happen For A Reason".
True enough. The 'reason' happened less than 5 mins later.
Those who know me well, will know what is it that makes me happy... Go figure.
Heh.------------------------------------------------------------------------------------------------
Anyway, many many thanks to that lovely newlywed couple, Tini & Odi
(or Mr & Mrs Odi)
for playing host and let me dwell in their abode for an overnight stay.
Dah lama kita plan, kan Tini kan? Dari time you belom kawin, lagie. Betol tak?
I woke up after a mere 4hrs of sleep when the warm sun rays beat down my face, only to realise that it's the first time I was in Punggol during the day. The other times I've been there had been at night, wasn't it?
Macam jakun, gitu.
Then, I felt like your little sister as I tagged along when you did your marketing & grocery shopping, in anticipation of the special dish you promised to cook for me during lunch.
Later on, while you were busy cooking ...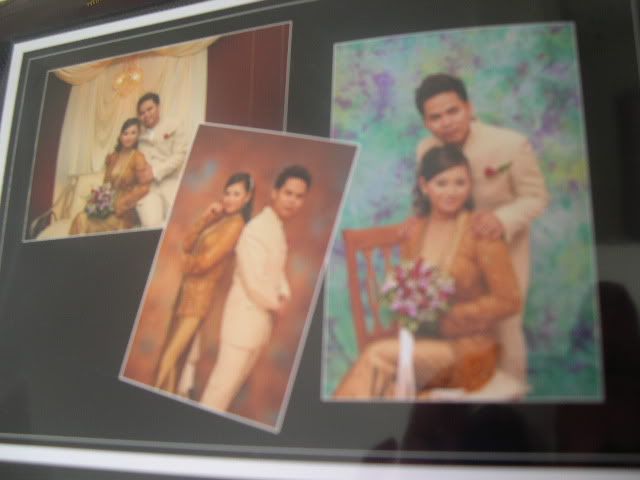 ... I was busy browsing thru' your wedding album.
Geez
, I'm such a
lazy
bad guest.
Pfft.
And during lunch, we feast on your 'Ikan 3 Rasa'-with it's dripping red sauce, while watching a horror movie. I know I've said it then, but I'll say it again. The ikan is
sedaaappppp!!!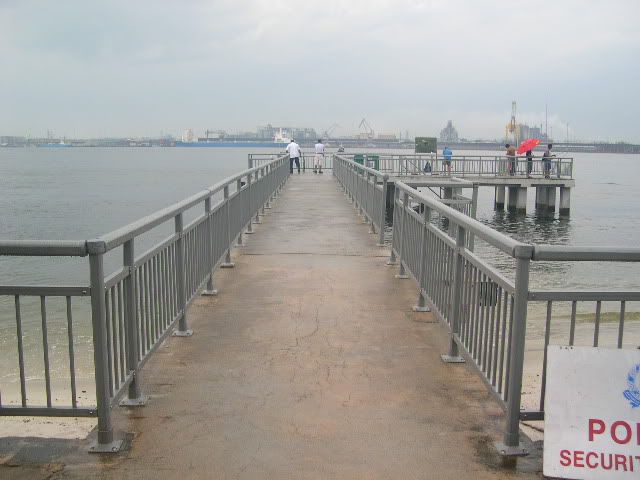 After lunch, you prepared a jug of kopi 'O' for your hubby & in-laws and we troop down to the nearby Punggol jetty, where they had been fishing, to check on them esp. after that heavy rain.
Tell your mum-in-law, her Kueh Kasu'i & rendang is superb, albeit a tad spicy but delicious, nonetheless. Can't believe she prepared all that just for the fishing trip. I guess it's you fellas who are lucky, eh?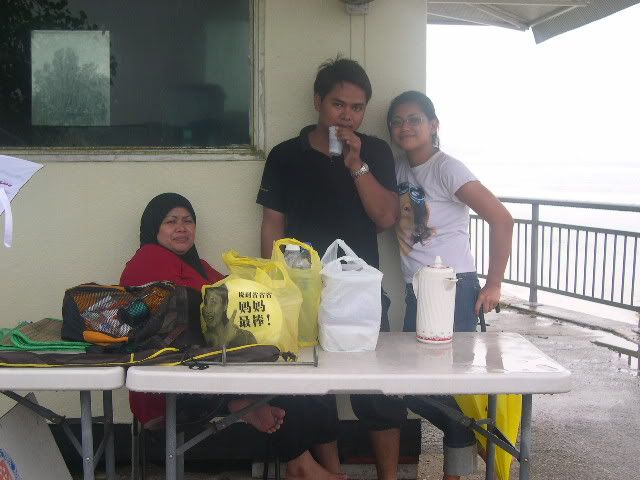 I remember a line in your sms, sent on the evening after I went home,
"...jangan serik tau. Datang lagie, eh..?"
No worries, mate. Maybe next time, I'LL cook. We'll see.
And to a certain Ms. Diana, who was so eager to join us but was unable to; there shall come a day when our plans will go thru, cos' we've always enjoyed one anothers' company. There's no way we can leave you out,
rite
?