Another reunion.
14082005
When was the last time we met? April, you say?
*counts fingers*
Geez,
guys! it took us FOUR
freakin'
months to meet-up!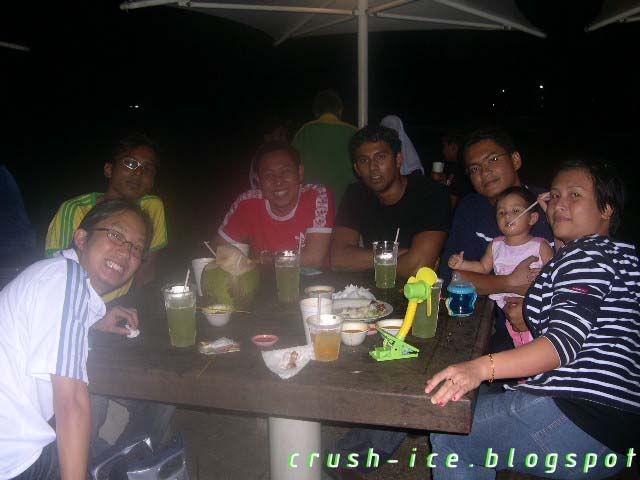 (L-R) Meng, Khama, Kai, Bas, Fendi & Shasha (his daughter), Yanie (his wifey)
After some last-minute planning and decision-making, I was VERY surprised to see that the WHOLE bunch actually made it for this meet-up. Kudos to
K@i
for all his effort in contacting us all and eventually bringin' us together. Oh, not forgeting
B@s
who suggested this thing in the first place.
ME...?
I just made my presence known, aside from bringing one 1/2 of the transportation mode. Rite...?
Met up with Khamz and then fetched Fendi & family in Woodlands before heading for East Coast Lagoon F.C
(food ctr NOT football club).
Yeah, I know. The distance, my gosh! I think I had covered 1/2 of Singapore's perimeter, just by driving that distance. Wonder how much the taxi fare may cost....
Driving back, it was vice versa.
K@i
send Fendi & family back while I drove Meng & Bas back to western S'pore. Seriously, guys.
One of you westerners better get a car soon!
After dropping Meng off, Bas remarked that he wanna chill first. We decided on McD West Coast Park
(open 24hrs).
Kinda' cool place. McCafe & McD. Relaxed crowd. No signs of boisterous teens trying to make it 'cool' their way.
GET THIS: It's almost 1am early
MONDAY
morning and I; having to work LATER ON, was chillin' with:
A guy who's clearing his leave b4 he O.R.D
AND
a guy on his day off.
....Just who am I kidding?
The Monday isn't just going to be blue. It's gonna be BLACK, I tell you!
Sheesh!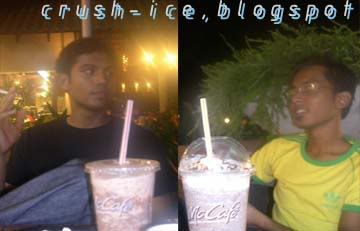 2 (very) eligible bachelors. Bas & Khamz. Any takers?
They are so gonna kick my a** for this....
Btw, what happened on the way when sending Bas home was pretty hilarious
(if not grave)
. Something involving a long stretch of straight road, a rather big
bump
hump, some G-force AND an unexpected POLICE road-block.
Geez!
So guys, pardon me for saying this but, will the next time we meet-up be a break-fast session this coming Ramadhan? Considering the
(obvious)
pattern of a few months between each meet... I'm not surprised if this may be true, after all.