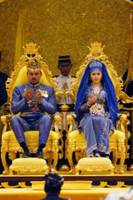 The royal couple on a pair of gilded seat, no less...
I finally got to watch a full length documentary of the recent royal wedding of the crown prince of Brunei...Very O.T.T, I tell ya. It's interesting to see how ppl with lotsa' lotsa' money use the dough for such occasions.
A wedding celebration that last a long, long time
(must have been the longest ever!)
The patriotism showed by the Bruneians, standing in the rain to see the newly-wed couple in their full glory
(the gilded Rolls Royce, included)
despite the heavy downpour.... Amazing.
Ceremonies after ceremonies, one 'costume' after another. Hundreds of VIPs
(I manage to spot S'pore's own LKY!!)
and ooohhh....you should have seen the gift of jewelleries given to the bride. Real gems, no less. Not to mention that huge rock of a diamond on her finger! At least 10carats, I'd say....