2 1/2 dates
That Satuday night, the 3 of us planned on a 'girls-nite-out'. We tot of our routine shisha-session but decided to skip it for a movie instead.
Maybe it's our choice of movie but a date meant for 3 girls became a '2 1/2 dates'. Both of Tini's & Deanna's other 1/2 insist on watching "The DATE MOVIE" together. So there I was, sandwiched between ....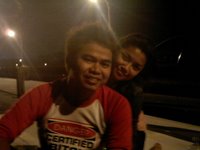 ... these 2 couples.
After which, we chose to just chill at Yishun Dam. But girls being girls, I guess it's their responsibility to 'feed their guys' and bought some rojak mamak at this 'Teh Tarik Korner'.
Not bad, leh. The gravy similar to the Waterloo Rojak sauce.
Left at 4+am. Deanna & Azari were filling in the M'sian arrival cards when we left. They still can head for J.B, ok? I'm bushed.
So was it weird moving around with 2 couple whiile I'm still 'flying solo'??
Heh.
I'll tell you what's MORE weird. Reaching home at 5am and yet, having to drive around by noon, with your grandparents in the car. And my grandma shall 'accompany' me in the front seat.
Goodness gracious me!