Our honeymoon package with the resort also include a romantic candlelight dinner. I arranged to have it on the 2nd night. That afternoon, before going out, I had made arrangements with the staff as to my preference for the dinner location.
The beach of course.
Both of us assumed that they knew of our intention to be seated on the floor of the deck by the beach. Those seats directly faced the sea, seemed private enough and was indeed cosy-looking.
How was I to know that they had planned something else (apparently they did these dinners quite often)??
Ehm...
refer to the pics later to see what I mean.
They had wanted to open a bottle of wine/champange specially for us but we quickly refused, saying that we don't drink. They seemed taken aback, considering that the expensive wine was on the house and yet we REFUSED it. Oh the folly!
I didn't figure out that they didn't know that we're Muslims. We later found out that they had thought us to be JAPANESE. Must be my hubby,
la
!
So they scrambled to pass us the mocktail/beverages menu.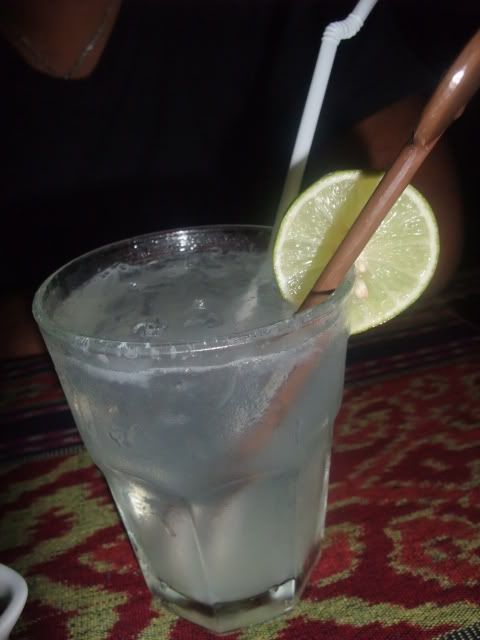 Hubby's Lime Soda
He disliked it.
Pfft!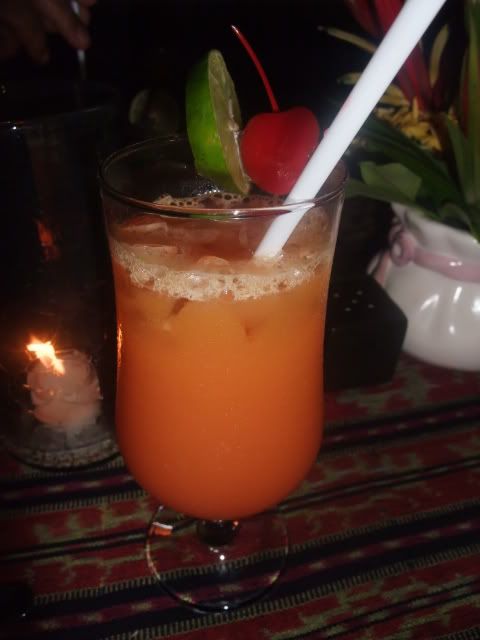 Shirley Temple
My favourite mocktail of all time.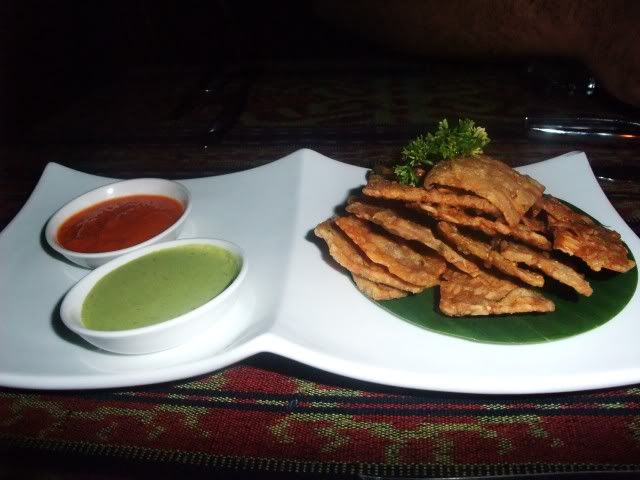 Appetizer
Dinner started with
a plate of
tempe
chips with green chili and tomato salsa dips. It was dark there and seeing the sauces, I had assumed the chips to be the regular nachos.
I was surprised when I found them to be the humble
tempe
. It had tasted so good! There was a hint of the taste of kaffir lime leaves. Nicely spiced, actually.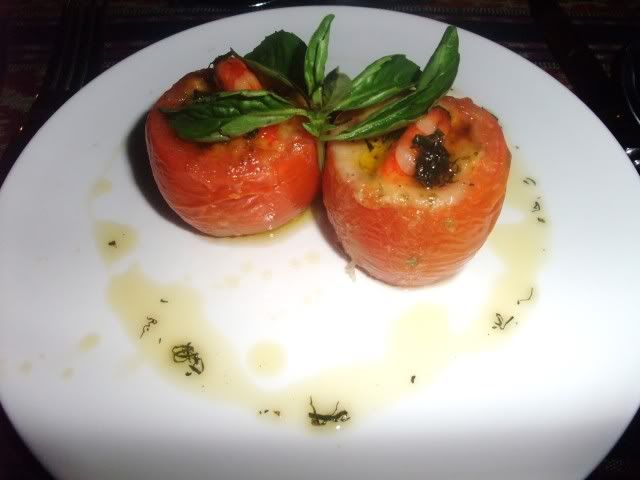 Starter


It was later followed by a starter -a couple of baked tomatoes stuffed with cheese and shrimp.
This was a nightmare for someone who dislike tomatoes and even shrimps (my hubby). Thankfully, the taste of the baked cheese somewhat drove him to eat at least 1 of these.
Me...? I love it!
I spotted a large shrimp and sweetcorn kernels topped with cheese, olive oil and dill. And garnished with basil.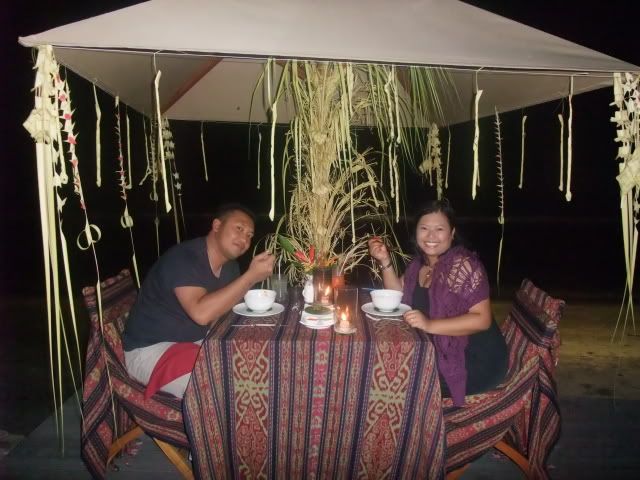 Eating the soup (check out the setting!)
Next is the Hungarian beef goulash soup. By this time, hubby was freaking out because he's not used to a full-blown fine-dining meal. Last experience he had, he hated it (in France, I think).
But I assured him that we should enjoy this once-in-a-lifetime moment.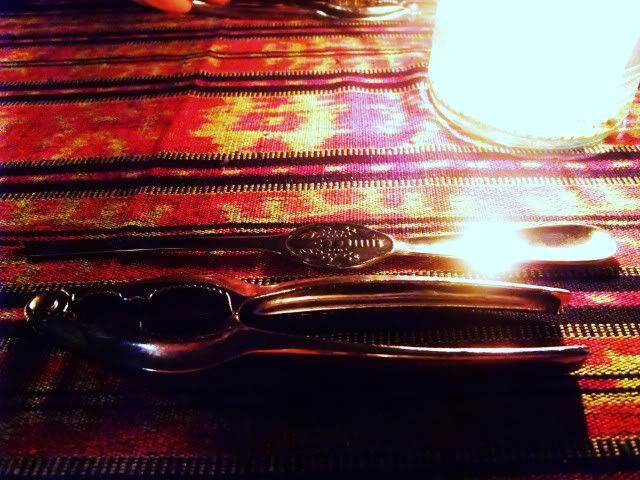 recognise these tools?
And the best part...?
I saw some tools that alarmed me. They look like one might use to eat crabs.
... And hubby is ALLERGIC to crustaceans.
-_-
So we asked the server, what the main course was. Hearing the reply, I could almost hear the groan from hubby.
I started freaking out. I thought of asking the server to change the item for him but my hubby actually refused.
Geez!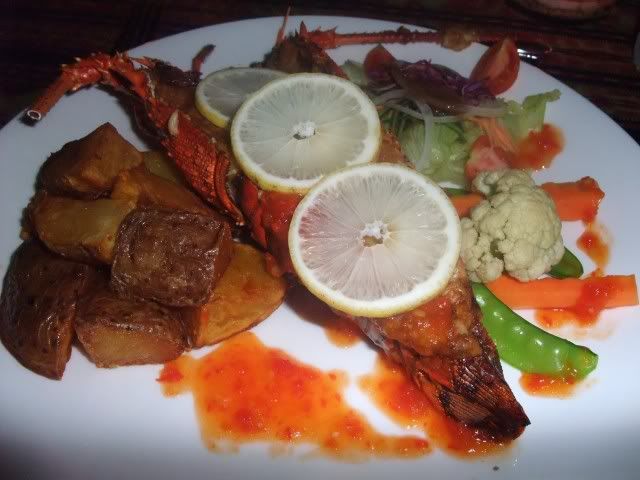 Main course ~ Lobster Thermidor

I was worrying about how hubby was going to finish that.
Turns out, I shouldn't have worried. He gingerly took a bite and was hooked. Must be all that cheese.
Well, who the heck can resist a lobster dish - allergy or not?
And that dish was superb! I used the given tools eventually to pick out pieces of lobster meat from every nook and cranny.
And the roasted potatoes on the side was really, really deliciousss! I mean it!
Man, I'm drooling as I'm typing this....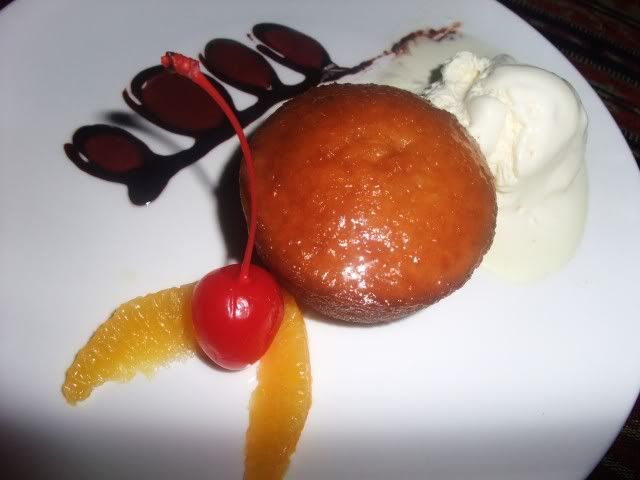 Dessert
Honestly, I can't recall what this dessert is. Some pudding... Melba pudding..? Yeah, something to that extent.
Pretty nice and not too heavy for a dessert. Especially after all that food...
The pattern on the side was raspberry sauce outlined with chocolate.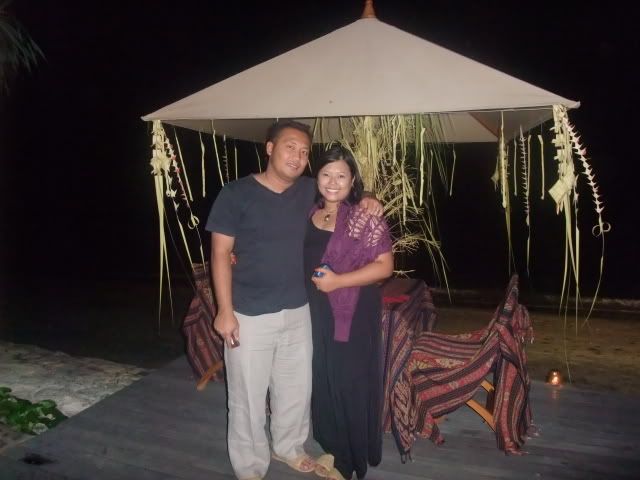 Full, contented and (very) happy
Man, we're so stuffed!
That setting that's specially meant for honeymoooning couples was really attention-grabbing, man!
So much so that a Caucasian couple came by to congratulate us.
*blush*
We were given much attention that night, especially since we decide to converse in Bahasa Indonesia with the staff. They were so relieved to not have to struggle to mentally translate every single word into English (I know that's how they do it).
So we engaged in a light-hearted conversation and one by one, each of them came by to interact with us. They hardly receive foreign guests who can converse in their language, you see. So their curiousity was very much piqued.
That was such a pleasant experience. Qunci Villas really accomodate to honeymooners. And I'm so so glad I chose this place.